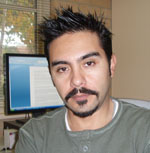 The death of Osama bin Laden should be a welcome relief to many Westerners, particularly Americans who risk being targeted by extremist jihadist groups in conflict regions around the world, but hopes for strengthening international law enforcement and justice procedures has been lost, according to a Charles Sturt University (CSU) academic.
Dr Oliver Villar, a politics lecturer at the
School of Humanities and Social Sciences
at CSU in Bathurst, was commenting on the news of bin Laden's assassination by US Special Forces in Pakistan, which has brought jubilant crowds onto the streets of cities and towns across America.
"Understandably, a sense of justice has been expressed for the victims of the September 11 attacks in New York and Washington DC in 2001," Dr Villar said.
"Headlines throughout the Western world have expressed this jubilation in triumphant terms. There is no doubt this latest development marks the end of an era for what has been called the US 'Global War on Terrorism' (GWOT).
"Behind the celebratory atmosphere and international support by most world leaders, however, serious questions remain regarding the future of American wars such as in Afghanistan and beyond, as well as the GWOT as a lawful security policy.
"According to media reports, bin Laden was in Pakistan for at least five years, and it has been suggested that Pakistan, an ally in the GWOT, should have known his whereabouts. A helicopter raid conducted by special operations teams working with the Central Intelligence Agency flew from Afghanistan without being intercepted by the Pakistani Air Force. US intelligence sources have stated that information about bin Laden's location was known since August 2010. Going by the available information alone, it is highly unlikely that Pakistan was unaware of this operation.
"The American operation also raises serious doubts for peace and justice against terror.
"According to President Obama's predecessor, George W. Bush, the mission in Afghanistan was to hunt down and kill bin Laden. Although this goal has been achieved - it has been reported that bin Laden was shot in the head, then buried at sea - it is improbable that the Americans will withdraw from Afghanistan anytime soon. In Australia, a debate has arisen about whether or not Australian troops should also withdraw.
"Domestic politics and special operation logistics aside, bin Laden's assassination will not make the world a safer place. Instead, the practice of targeted assassinations will give a precedent for other states to assassinate individuals and groups who they too define as 'terrorists'. While this may sound practical and reasonable, it destroys all hopes for strengthening international law enforcement and justice procedures. If the US knew about Bin Laden's whereabouts for months, there was a real opportunity to capture him then try him in an international criminal court.
"Targeted assassinations could also give US allies with notorious human rights records, such as Colombia, and many in the Middle East, a further 'licence to kill.' In Libya most recently, US-NATO air strikes have allegedly killed Gadaffi's youngest son and three grandchildren. In 2003, Saddam Hussein's two sons and grandson were also killed in similar circumstances. Whether the new 'Bush Doctrine' of Obama constitutes 'terrorism' must now be a matter of political debate.
"Either way, an opportunity for global justice against terror and tyranny has been lost," Dr Villar said. "In no small irony, this opportunity for 'change' will have a disturbing effect on what we may call 'unworthy victims' of US-sponsored state terror."