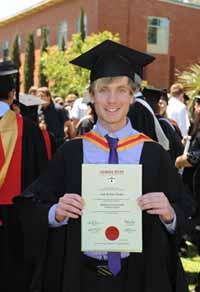 Mr Josh Wyper had never considered a career working in rural Australia before undertaking the oral health degree at Charles Sturt University (CSU). Now, recently graduated from CSU gaining a Distinction grade in his final year of study, Mr Wyper has secured a position as an oral health therapist in Dubbo in central west NSW.
The scholarship, offered to second year oral health students at CSU, is supported by the
Bila Muuji Aboriginal Health Services Inc
comprising of Aboriginal Medical Services from Balranald, Brewarrina, Bourke, Coomealla, Coonamble, Dubbo, Orange, Wellington and Walgett.
"The Bila Muuji scholarship has provided me with a great opportunity to travel around to rural and Aboriginal communities where there is limited access to dental and oral health services," Mr Wyper said.
"I'd like to start off my career within the public health system, where I believe I will be exposed to a greater degree of cases which will enhance my clinical skills and will enable me to help bring about positive changes."
During the final year of his three-year degree at CSU, Mr Wyper also attended clinical placements at the Wagga Wagga Base Hospital, the CSU Dental and Oral Health Clinics in Albury-Wodonga and Wagga Wagga and a two-week volunteer work placement treating impoverished children in Cambodia.
As a result of those experiences, the CSU graduate hopes to continue his education at CSU.
"I want to further my studies to so I can perform more complex procedures on patients," Mr Wyper said. "I would also eventually like to run my own practice and be in charge of a team of other dental professionals."
Head of the School of Dentistry and Health Sciences, Professor David Wilson said, "The School is very proud of the achievements of the 2012 oral health therapy graduating class. We remain committed to the mission of teaching and training oral health professionals for rural and regional Australia.
"Charles Sturt University oral health therapy graduates are remaining in regional NSW in significant proportions. Our first group of dental science students will graduate at the end of 2013 and, based on feedback from existing fourth year students, there will be a similar retention pattern.
"As is evident in official reports on the oral health status of rural and regional Australians, there remains a significant inequality in terms of access to dental care by rural patients."
Mr Wyper said studying at Charles Sturt University has definitely changed the way he thought about oral health.
"Throughout the degree, I not only learnt about teeth, but I also gained an understanding of the medical, psychological and community context of oral health," he said.
After attending his graduation ceremony from CSU in Wagga Wagga on Monday 10 December 2012 with 10 other oral health graduates, Mr Wyper has urged others to think about a career in oral health.
"Based in regional Australia, the class sizes at Charles Sturt University are smaller in comparison to metropolitan-based universities," he said.
"I had a greater opportunity to interact with lecturers and other teaching staff on a more personal level to get the most out of my learning whilst at university.
"With state-of-the-art facilities, a strong community focus and industry specific education, I believe that Charles Sturt University has fully prepared me to enter the workforce as a highly competent oral health professional."
And that is exactly what the CSU graduate has done.
Read more about the three-year oral health program at CSU in Wagga Wagga and the five-year dentistry program at CSU in Orange
here
.