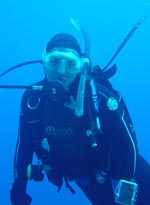 A Charles Sturt University (CSU) student has helped save harmless sharks from a 'ghost net' off the NSW South Coast while preparing for an underwater research project.
PhD student and enthusiastic scuba instructor Ms Joanne Edney was testing the use of underwater cameras when her test group chanced upon the net which had trapped a number of harmless Port Jackson sharks between large rocks.
"We were testing the use of the popular GoProTM camera to record the underwater experiences of skindivers, when we chanced across the trapped sharks. We were able to free eight, but unfortunately two of breeding size had already drowned," Ms Edney said.
"We were pretty distressed as these beautiful creatures that feed on molluscs and crabs. Seeing them trapped in an illegal fishing net really made us very sad."
Ms Edney was testing the use of the cameras as part of her research into the rapidly growing tourism industry in the Pacific Islands based on scuba diving around ship and aircraft wrecks from World War II.
Ms Edney is investigating the influence of the cultural background of these divers on their experiences during these holidays, which influences the way these sites and managed and promoted.
"These wrecks have significant archaeological, historic, cultural, social, educational and scientific as well as economic values for the local people, and recreational values for divers," Ms Edney said.
"Any disturbances of the sites affect all these values, and once damaged they cannot be restored. I want to investigate what divers like to see and do when diving on these important sites, particularly where there are large numbers coming from many different countries."
Ms Edney is using footage from cameras and surveys to investigate the motivations and preferences of divers from different cultures while they are diving on wrecks.The CSU research student leaves for her first research trip in Micronesia in early November.