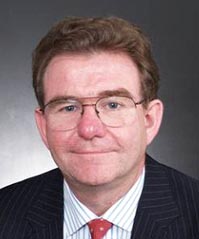 A Charles Sturt University (CSU) counter-terrorism and security expert says that police and security services in the United Kingdom will be on heightened alert as the Royal Wedding of Prince William and Ms Kate Middleton approaches.
Associate Professor Nick O'Brien, a lecturer at the CSU
Australian Graduate School of Policing
in Canberra, says, "Security threats to the coming marriage of Prince William and Kate Middleton come from six main distinct groups:
"Al Qaeda Central – a group weakened by coalition forces action in Afghanistan and who are likely to be based in the Federally Administered Tribal Areas (FATA) in Pakistan. While not as powerful as they were, they still have the intent to carry out terrorist attacks.
"Groups Sympathetic to the Al Qaeda Cause – such as Al Qaeda in the Arabian Peninsular (AQAP). AQAP have admitted responsibility for the attempted bombing of Northwest Airlines flight 253 on Christmas Day 2009, and the 2010 cargo plane bomb plot when explosives were found on cargo planes heading for the UK in October.
"Dissident Irish Republican Groups – Earlier this month a police officer, Constable Ronan Kerr, was killed in Northern Ireland when a bomb detonated under his car. It is likely that dissident Irish terrorists have the desire to cause explosions on the mainland.
"Anarchists/Anti-Capitalists – In December 2010 a car in which Prince Charles and his wife, Camilla, were travelling was attacked in London by people protesting against a rise in university student fees.
"Environmentalists/Animal Rights Activists – Any attacks by these groups are likely to be an attempt to get publicity rather than to cause injury or death to the Royals or their guests.
"Fixated People – Fixated people are those obsessed with a particular person or family. The Royal Family attracts many such people, some of whom have written to the Royal Family. In 2007 the Fixated Threat Assessment Centre was established to identify threats to both royalty and politicians.
"Another danger is that a member of the public who just wants to wish the Royal couple well will break through cordons and approach the Royal party."
Associate Professor O'Brien was formerly Head of International Counter Terrorism Intelligence and Operations in Special Branch at New Scotland Yard, London. As a junior officer at Scotland Yard, he worked on security at the wedding of Prince Charles and Lady Diana Spencer. He has worked on Irish and international terrorism, and came to Australia as the United Kingdom's Counter Terrorism and Extremism Liaison Officer prior to taking his position with CSU.