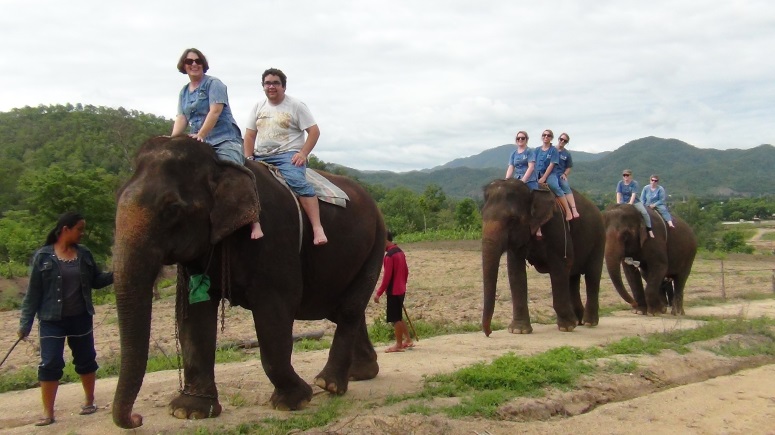 Working in mobile health clinics in remote mountain villages was just part of the adventure for a group of Charles Sturt University (CSU) nursing students and their lecturer during a recent trip to Thailand.
The 10 CSU Bachelor of Nursing students and Dubbo based lecturer Ms Cathy Maginnis spent two weeks in Thailand for an international work placement as part of their studies of child, adolescent and family health.
A lecturer with CSU's School of Nursing, Midwifery and Indigenous Health, Ms Maginnis said, "The focus of the work placement was on primary health care, health education, health promotion and health assessment.
"Our work began in the mountain regions of Kallayaniwattana, Watchan, four hours drive from Chiang Mai. We visited the Watchan hospital, assisted with health care and participated in a breast cancer clinic.
"Each day we would travel by four wheel drive to remote villages to set up mobile health clinics. Students joined hospital staff in assessing and providing health care and supplying pharmacy and pathology services."
Bachelor of Nursing student, Ms Elizabeth Bailey said it was an opportunity to develop their skills and compare the different nursing practises between Australia and Thailand.
"Working alongside Thai nursing teams we were able to assess patients, provide care and medications," she said.
"We learnt invaluable lessons around culturally sensitive care and how to communicate when there are language barriers.
"It brought to light the developments of modern medicine, while also serving as a reminder to never allow medical advances to over shadow the importance of compassion, kindness, empathy and listening.
"The immense rewards, both personal and professional, of knowing we assisted to influence better health outcomes and access for those less fortunate, is one which will remain with me and inspire me for years to come."
For the second week of the tour, Ms Maginnis said the CSU students were based at a public health clinic at Mae Dad.
"This was a more remote location and we became acquainted with cold water bucket showers and using squat toilets in the villages.
"We travelled up to an hour and a half each day to the remote villages and this itself was an adventure as we were able to take in breath taking scenery along the routes.
"These villages had limited access to health care and education and the people lived very simple lives whilst working extremely hard and for long hours, labouring in the paddocks and caring for livestock.
"We visited schools and delivered health promotion and health care whilst experiencing village life and immersing ourselves in the culture, eating fabulous food and learning basic Thai language.
"The students and I would like to thank Woolworths Orana Mall for their donation of 50 pairs of reading glasses. These had an immediate effect and long lasting benefit and it was very emotional to watch the expressions on the villagers faces change as their vision improved. Also thanks to Rex Airlines for allowing excess baggage to take medical supplies to use and donate."
The trip was supported by CSU Global, a University initiative that gives students the opportunity to experience the world through a broad range of international study experiences.