* CSU Vice-Chancellor commits to contributing $45,000 per year to a special University fund
* Fund aims to support students and University priorities
* Commitment announced on #GivingTuesday - a Global Giving Movement day
Charles Sturt University (CSU) Vice-Chancellor, Andrew Vann (pictured) has led by example on Giving Tuesday by announcing a significant gift to support University priorities.

Recognised as one of the most significant international giving movements, Giving Tuesday is a global day that encourages people to think of others and find ways of giving back to their own community.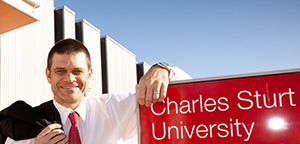 Vice-Chancellor Professor Andrew Vann has made a commitment to contribute over $45,000 per year through to 2021 into a special fund established to support students and University priorities in a perpetual fund.
This is an increase on Professor Vann's regular fortnightly donation to the University's staff giving fund.
"As Vice-Chancellor, I think it is really important to provide an ongoing to legacy to the students of Charles Sturt University,' said Professor Vann.
"Contributing a component of my salary each year through to the end of my contract in 2021 is one way I can make a difference to the students we serve in the regions of NSW.
Professor Vann said days such as Giving Tuesday are powerful in reminding everyone about what they can do to help others, even if the individual contribution is small.
"Supporting the CSU community is very dear to my heart but Giving Tuesday is about creating a global movement that encourages everyone to give back in a way that provides benefit in line with personal values. It doesn't matter how big or how little, every little bit really does count, especially in regional communities," Professor Vann said.
Staff at Charles Sturt University also give generously to the staff giving fund.
Sarah Ansell, Director, Advancement and representative of the CSU Foundation said the gift is incredibly generous and reflects Professor Vann's commitment to CSU and the communities it serves.

"Professor Vann's decision to direct his donations to a special priorities fund not only allows us to ensure money is spent where it is needed most, but it will also provide a legacy for many years to come."

Giving Tuesday invites all Australians to join the movement and give – whether it's some of your time, a donation, gift or the power of your voice in your local community.

For more information, please head to www.givingtuesday.org.au or follow the day via the #GivingTuesday hashtag on social media.