Fresh water supplies under pressure from increasing populations is a concern for resource managers worldwide. How Australia, as the world's driest inhabited continent, manages its water is under increasing scrutiny.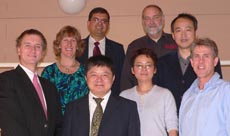 Senior scientists from Hohai University, in Nanjing in central China, are talking and travelling with senior researchers from Charles Sturt University (CSU) to investigate how Australia manages its water and to explore possibilities for collaboration.
ILWS Director, Professor Max Finlayson said the visit was an important opportunity to develop closer research and teaching ties with a preeminent international institution that focusses on water engineering and management.
"CSU has internationally recognised expertise in water management and can contribute to more sustainable water use practices in the Murray-Darling Basin and elsewhere in the world," Professor Finlayson said.
"With this visit we hope to cement relationships with Hohai and together investigate the big issues in water management which influence people's livelihoods and the landscapes of the world's major rivers, such as the Yangtse in China and the Murray-Darling."
The senior water researchers from Hohai - Associate Professor Renzong Ruan, Professor Guoqing Shi and Dr Qihui Chen - will also visit Hume and Dartmouth Dams, Colleambally Irrigation Area and the Snowy Mountains Hydro Scheme during their visit to south eastern Australia.
While in Bathurst on Tuesday 2 June, the visitors will meet with their colleague Professor Zhang Changkuan as guests at Charles Sturt University's
20th anniversary commemorative dinner
, to be held in the Cliff Blake Auditorium, on CSU at Bathurst. The visitors return to China on Wednesday 3 June.