* Data mining increasingly central to making strategic decisions and enhancing customer/user experiences
* It affects almost all areas of modern life including health, entertainment, agriculture, engineering and national security
* Eighty conference papers selected from 98 submitted by 44 authors from 19 countries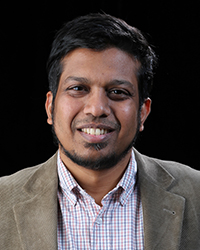 Charles Sturt University (CSU) will host the 16th Australasian Data Mining Conference (AusDM) 2018 at CSU in Bathurst on Wednesday 28, Thursday 29 and Friday 30 November.
Associate Professor Zahid Islam (pictured) in the CSU School of Computing and Mathematics is co-Chair of this year's conference with CSU colleague Professor Chang-Tsun Li.
Professor Islam said that while the Australasian Data Mining Conference has established itself as the premier Australasian meeting for both practitioners and researchers in data mining and the machine learning community, it is open for any general participants.
"AusDM 2018 is devoted to the art and science of intelligent analysis of (usually big) data sets for meaningful and previously unknown insights," Professor Islam said.
"This conference will enable the sharing and learning of research and progress in the local context, and new breakthroughs in data mining algorithms and their applications across all industries.
"The AusDM 2018 conference will offer a variety of keynote speakers, and tutorials on important and interesting contemporary topics in data mining.
"Specifically, the conference seeks to showcase: research prototypes; industry case studies; practical analytics technology; and research projects.
"AusDM'18 will be a meeting place for pushing forward the frontiers of data mining in academia and industry."
Participants will need to complete a full registration on the conference webpage at https://ausdm18.ausdm.org/. Early bird registration cut off is Friday 2 November, and the full program is available on the website.
Professor Islam said that data mining (also known as data science, machine learning, and artificial intelligence) provides tools and techniques for the analysis of usually large data and enables us to discover knowledge from these data automatically without requiring deep domain knowledge and pre-assumed hypotheses.
"Data mining provides tools and techniques for data collection, data cleansing, data pre-processing, knowledge discovery, pattern recognition and future prediction," he said.
"With the advancement of information technology for data collection, transmission, storage and analysis, a huge amount of data is being generated and collected these days.
"And with such huge data available to us, data mining has become an essential science for us.
Professor Islam said that some experts claim that 90 per cent of the world's current data has been generated in the last two years.
Furthermore, the collected data can be diverse, from a variety of textual, image, signal, video and streaming sources.
"It can be extremely difficult − if not impossible − to analyse these data manually," he said.
"However, automatic analysis of these data can discover previously unknown but valuable knowledge that can then be used to make future predictions, make strategic decisions and enhance customer/user experiences in almost all areas including health, entertainment, agriculture, engineering and national security."