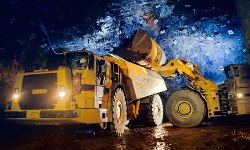 Charles Sturt University (CSU) researchers have been awarded a major grant for their work on boulder detection in underground cave mining environments.
The team from the Mining Research Laboratory in the School of Computing and Mathematics, led by Dr Michael Antolovich, Professor Junbin Gao and Allen Benter, have been awarded a research grant of US$290 000 over the next year from the Mass Mining Technology Project (MMT3) round of funding.
Dr Antolovich said the CSU submission was based on the successful research carried out by the Mining Research Laboratory over the last five years. This was originally funded by Newcrest Mining Ltd's Cadia Valley Operations near Orange, NSW, and was supported by the CSU Faculty of Business.
"This grant demonstrates CSU's leadership delivering tangible outcomes in advanced imaging, computing and mathematics with industrial projects," Dr Antolovich said.
"We are very pleased to have secured such significant research funding from this prestigious consortium to allow us to continue our work on boulder detection in underground cave mining environments using ground penetrating radar, computer imaging, and complex learning robotics. Outside of the University of Queensland, Charles Sturt University was the only other Australian University to have been awarded this grant.
"The new project, 'Drawbell Boulder Detection', is scaling up the successful Newcrest project, for which we received an earlier $905 000 grant, for the detection of large rocks in a 'muck pile'. This time, larger rocks need to be detected higher up in a 'drawbell', to assist production planning and help mining operations detect problems before production needs to be stopped.
"I congratulate our team of adjunct researchers, staff, and PhD candidates from the School of Computing and Mathematics for their outstanding work, patience and dedication, and we also thank the Faculty of Business for their continuing support of the Mining Research Laboratory over the last year."
The MMT Project is based at the WH Bryan Mining and Geology Research Centre (BRC) at the University of Queensland and consists of a consortium of some of the largest international mining and services companies: Newcrest Operations, DeBeers Group Services, Oricia International, Glencore Xstrata Copper (Ernest Henry), Minera Escondida (Operated by BHP Billiton), Anglo Operations, Codelco Chile, and Atlas Copco Construction and Mining Technique. This is the first research collaboration between CSU and BRC.