Common ethical issues facing Information and Communication Technology (ICT) professionals and how these problems are often resolved is the subject of new research involving Charles Sturt University (CSU) and the Australian Computer Society.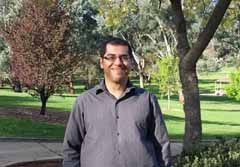 Heading the two-year study, funded by the Australian Research Council (ARC), is Dr Yeslam Al-Saggaf - a Senior Lecturer in IT in the
School of Computing and Mathematics
at CSU in Wagga Wagga. He is also a Research Fellow in the
Centre for Applied Philosophy and Public Ethics
(CAPPE).
Dr Al-Saggaf said, "This research will be the first major study into the ethical questions faced by ICT professionals, which will also identify positive solutions to those issues.
"As technology and qualifications in the ICT sector change, we also see greater prevalence of ethical issues.
"The ubiquitous nature of technology means that ICT professionals must be aware of many more potential conflicts and ethical problems than professionals in other fields.
"When this research is completed we hope to deliver an effective online ethical resource that will help guide the profession to better, more ethically sound outcomes.
"There have been countless instances where an ethical resource could have made a positive impact on a project and possibly avoided delay or, even worse, catastrophe.
"Hopefully this study will make it easier for professionals to confidently work towards the best outcomes for their clients and the industry."
The study will involve a survey, qualitative interviews, focus group interviews and evaluation workshops.
The $102 681 ARC Linkage Project,
Investigating which strategies are most effective in overcoming ethical problems facing information and communications technology professionals
is being conducted by Dr Yeslam Al-Saggaf and Dr Oliver Burmeister from the School of Computing and Mathematics at CSU, Professor of Computer Ethics John Weckert from the School
of Humanities and Social Sciences
and CAPPE and Mr John Ridge from the
Australian Computer Society
.