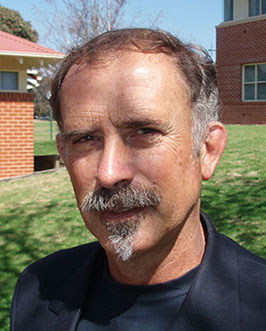 A new book co-authored by a Charles Sturt University (CSU) academic explores the ethics and the impacts of digital communication.
Dr Edward Spence (pictured), senior lecturer in ethics in the CSU School of Communication and Creative Industries said the book co-authored with Professor Deni Elliot (University of Southern Florida) explores how digital technology has transformed the way people communicate and seek information.
Dr Spence explained that Ethics for a Digital Era discusses growing demand for the 24-hour news cycle, 'post-truth' politics, media consumption, and how the technologies that drive it have become ever more influential in shaping public opinion.
"The book looks at the issues that arise from this digital revolution, because it has become more important and critical that we examine the social and ethical consequences of the technology," Dr Spence said.
The ethics of traditional analogue communication practices, traditional media (fourth estate) and its convergence with new forms of digital media (fifth estate) such as blogs, podcasts, vlogs, and social media posts are also discussed.
Also central to the book is a unique and innovative model first developed by Dr Spence that examines and evaluates the phenomenon of corruption in the media, in the form of 'infomercials', 'cash for comment', and product promotions by digital 'influencers' and the rapid rise of 'fake news' and 'alternative facts'.
"Media corruption is particularly pernicious and of great concern as it undermines our social and political institutions as well as the foundations of democracy itself," Dr Spence said.
"It is important to discuss, reflect on, and question the role of digital communication and the media, and its impact on the wellbeing of society."
CSU has a reputation for leading in communications education.
Dr Spence's book Ethics for a Digital Era can be purchased on Amazon.