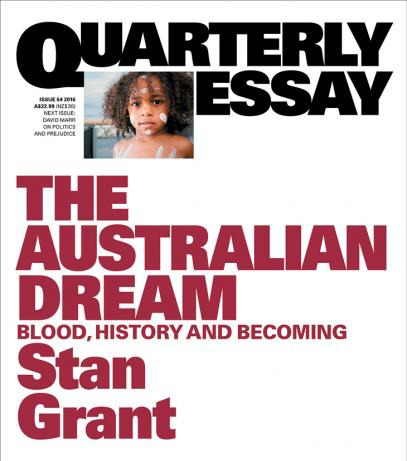 Charles Sturt University's (CSU) Chair of Indigenous Affairs and Wiradjuri man, Dr Stan Grant, has written eloquently about the struggles and triumphs of Indigenous Australians in an upcoming edition of the prestigious Quarterly Essay journal.
In his essay, to be published on 21 November 2016, and titled 'The Australian Dream, Blood, History and Becoming', he examines black history through his personal lens leading him to say, "The idea that I am Australian hits me with a thud. It is a blinding self-realisation that collides with the comfortable notion of who I am.
"To be honest, for an Indigenous person, it can feel like a betrayal somehow – at the very least, a capitulation," Dr Grant said.
"We are so used to telling ourselves that Australia is a white country: am I now white? The reality is more ambiguous … To borrow from Franz Kafka, identity is a cage in search of a bird."
The reflective essay shows that far from being fringe dwellers, Indigenous people in Australia have fought not just to survive but to prosper economically as well as culturally and socially.
"Their legacy is the extraordinary flowering of Indigenous success – cultural, sporting, intellectual and social that we see today."
Dr Grant adds this flourishing co-exists and is at odds with the boys of Don Dale Youth Detention Centre in the Northern Territory and the many others like them who live in the shadows of the nation.
"History is not destiny and culture is not static and we can all argue the case for a more capacious Australian Dream," he said.
Dr Grant took up his position as CSU Chair of Indigenous Affairs in June 2016.
His role as Chair of Indigenous Affairs was created to complement the work of CSU's existing Foundation Chair of Indigenous Studies and Pro Vice-Chancellor Indigenous Education, Professor Jeannie Herbert, AM.
Dr Grant is the Indigenous Affairs editor for the ABC and was the winner of the 2015 Walkley award for coverage of Indigenous affairs. He has been a presenter on National Indigenous Television (NITV), the Indigenous affairs editor for Guardian Australia, and international editor at Sky News Australia. He has previously held posts in Abu Dhabi, Hong Kong and Beijing for CNN International and covered many large international news events.
In April 2016, Dr Grant was appointed to the Referendum Council on constitutional recognition by Prime Minister Malcolm Turnbull and Opposition Leader Bill Shorten. He is also the author of two books, Talking to My Country (2016) and Tears of Strangers (2004).
Dr Grant's father is Wiradjuri Elder Uncle Dr Stan Grant who was awarded an honourary doctorate from CSU in 2013 for his life's work to reclaim Wiradjuri language.