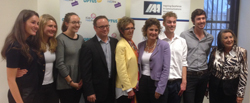 Industry-standard presentations and recommendations were the hallmarks of pitches by Charles Sturt University (CSU) advertising students in the finals of the International Advertising Association (IAA) 2013 'Big Idea' competition in Sydney on Monday 11 November.
"The judging panel acknowledged the high standard of all 15 teams from eight universities in the competition, but on Monday night Kajulu Blue was awarded the National Champions title for the 2013 IAA 'Big Idea'," Ms Llewellynn said.
"This is an exceptional achievement and congratulations to Kajulu Blue's Liz Stephens (Team Leader), Aidan Arentz, Mattie Mould, Kate Scrutton, Campbell Walker, and Luke Wilson, the team's graphic designer."
The annual IAA 'Big Idea' competition selects a charity for all the student teams to develop campaigns for, and the students pitch their presentations to a judging panel of marketing executives and a representative of the charity. The 2013 charity was 'Kids Helpline'.
Kajulu Blue was commended by Mr Jaimes Leggett, CEO of M&C Saatchi and Chair of the judging panel, not only for the depth and professionalism of their presentation, and their 'brave' strategy, but also for their outstanding written IMC recommendations which 'were a stand out'.
"Their solution was a big creative platform that was so much more than advertising. It gave consumers a clear role and mapped out a great user journey for people to donate," Mr Leggett said.
Ms Llewellynn said, "Both Kajulu teams made it to the finals, but there is only one winner and no second place is awarded. Kajulu Red, however, must also be congratulated for their excellent presentation. They too were highly commended by Jaimes in the judges' feedback for their insights and outstanding Big Idea. Well done to Kristie Bennett (team leader), Tom Barbour, Olivia Brechney, Eric Franken, Tannah Gravelis and their graphic designer, Jacob Forrest.
"It is a unique achievement that Charles Sturt University is the only university to have
two teams reach the finals four years in a row
, and that we have now won this national event eight times out of the 11 competitions since 2003."
Each Kajulu team consists of five final-year
advertising
students from CSU in Bathurst and one final-year
graphic design
student from CSU in Wagga Wagga.
"I'm so proud of our students," Ms Llewellynn said. "They have excelled in this extremely competitive national competition which attracted the biggest number of entries ever this year. Clearly, Charles Sturt University offers the best advertising course in Australia, and our students are highly sought after. Our course and this final authentic client 'pitch' certainly has them ready to hit the ground running when they enter the industry."