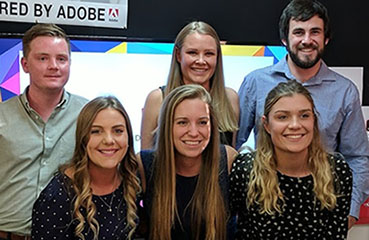 With enviable regularity, two teams of Charles Sturt University (CSU) students have again been selected as finalists in the annual national student marketing communications competition.
Ms Anne Llewellynn, lecturer in advertising in the CSU School of Communication and Creative Industries in Bathurst, said this is the eighth year in a row that two CSU teams − Kajulu Blue (top image) and Kajulu Red (lower image) – from the University's Kajulu student advertising agency were both selected as finalists in the annual 2017 International Advertising Association (IAA) national 'Big Idea' student competition.
"I am very proud that both teams have made it to the finals again," Ms Llewellynn said. "This is a huge achievement against so many other universities, nationally."
"Both the Charles Sturt University teams produced industry standard campaign recommendations in just six weeks. Even a professional agency would be pushing to do that."
"This year's challenge was probably the toughest we have ever faced, so to win would be the ultimate accolade. We are up against some pretty stiff competition, so we'll be giving it all we've got!"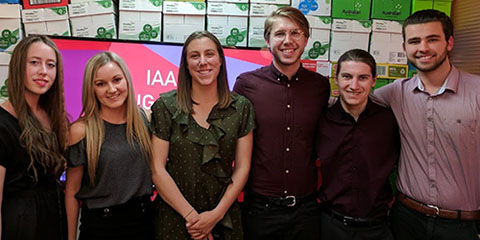 Underscoring the challenge, Ms Llewellynn noted this is the first year that another university (Edith Cowan University) also has two teams selected as finalists.
The top place-getter scores were very close and five teams selected will be judged at the finals challenge in Sydney on Friday 10 November when the winners will also be announced.
CSU Kajulu student teams have won an unprecedented 11 annual IAA national marketing communications competitions.
Ms Anne Llewellynn is the Faculty advisor for the CSU teams comprised of advertising, business/marketing, public relations, and graphic design students:
Kajulu Blue:
Ms Annastasia Albouze; Ms Jessica Ledden-Cooper; Mr Perry Neilson; Ms Clare O'Brien; Mr John Ryan; Ms Summer Treseder; and Ms Chloe Belley-Herring.
Kajulu Red:
Ms Olivia Foti; Ms Mary Hall; Ms Eliot Parker; Ms Sharntelle Uren; Ms Jordan Van Der Heide; Mr Jonathan Watson; and Ms Ashleigh Coates.
The IAA 'Big Idea' jury members are senior practitioners specially selected from the key sectors of the industry to form the judging panel to evaluate all the submissions to select the five finalist teams. This panel will also assess the finalists when they present their pitches face-to-face at the offices of OMD in Sydney on Friday 10 November:
Ms Aimee Buchanan, CEO Australia, OMD Australia (Chair of Jury)
Mr Paul Wallbank, News Editor, Mumbrella
Ms Chandra Sinnathamby, Head of Document Cloud, APAC, Adobe
Mr Stewart Heys, Head of Ad Products, News Limited
Ms Gayle While, acting CEO, Clemenger BBDO, Melbourne