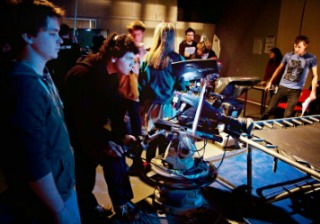 Charles Sturt University (CSU) television production students will be the big winners from the annual industry internship scheme interviews to be held in Wagga Wagga next week.
Lecturer in television and media production Ms Rachel Walls said the internship program established by the CSU School of Communication and Creative Industries in Wagga Wagga with some of the leaders in the Australian television industry provides an advantage for graduates that is envied elsewhere.
"This outstanding initiative gives our students the opportunity for a head-start in the TV industry upon graduation, and it provides the TV industry with exceptionally talented and enthusiastic young professionals," Ms Walls said.
"The fact that senior executives from leading Australian television companies allow two days in their busy schedules to travel to Charles Sturt University to meet 26 prospective interns is a testament to the high regard that our course and our students are held in by industry leaders. It's a win-win for all concerned."
Companies involved include the NINE Network, SBS, Southern Cross Austereo, the TEN Network, FremantleMedia, Deluxe, SkyNews, Foxsports, Global TV, Sky Racing, Foxtel, Mayfly Media, ABC Canberra, and ABC Sydney.
After a welcome and introductory sessions on Wednesday morning 24 May, there will be an informal barbecue lunch for the industry executives, staff and third-year TV students at 12pm. Then a range of presentations and a Q&A session will follow in the afternoon, with a dinner that night. The internship interviews will be conducted on Thursday 25 May.
The key elements of the industry summit will be held on campus in the TV production area, which is adjacent to the Boorooma entrance at CSU in Wagga Wagga.