* Scholarships will support regional students to study journalism
* Funds to pay for course-related expenses, including tuition fees, accommodation, and living costs
* CSU is one of Australia's leading educators of communication industry professionals
The federal government has announced new regional journalism scholarships worth a total of $200,000 for commencing students at Charles Sturt University (CSU).
The Regional Journalism Scholarships program will support five CSU students and graduates from regional areas of Australia to study journalism. The funds will be able to be used by recipients to pay for course-related expenses, including tuition fees, accommodation, and living costs.
Acting Deputy Dean of the CSU Faculty of Arts and Education, Associate Professor Lucie Zundans-Fraser, said, "Charles Sturt University is one of Australia's leading educators of communication industry professionals, and the awarding of these scholarships to the University is recognition of the high quality of our journalism courses and our record of producing exceptional graduates."
Dr Sharon Schoenmaker, Acting Head of the CSU School of Communication and Creative Industries said, "These scholarships recognise the University's commitment to supporting regional students and communities, and the strong relationships between the School and regional media networks."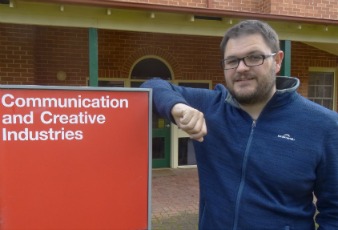 Course director in the School of Communication and Creative Industries in Bathurst, Dr Travis Holland (pictured left) said, "Our Bachelor of Communication has recently undergone an extensive review to ensure it remains the best course in the field. Students are exposed to industry best practices from day one of their study.
"Our journalism students will take subjects specifically dedicated to audio and video news production, as well as data journalism, and the time-honoured skills of news gathering and writing.
"They are also encouraged to undertake complementary minor subject strands such as radio, public relations, or digital media.
"Increasingly, newsrooms want journalists who can do everything and have expert knowledge of the fields upon which they report.
"This could mean journalists need to take up additional study in law, politics, or science, and we encourage and allow that within their journalism course."
CSU will make the scholarships available to students studying:
Bachelor of Communication (Journalism), online or on campus
Bachelor of Communication (Journalism and International Studies), online or on campus
More information about the federal government scholarships can be found here:
https://www.communications.gov.au/documents/regional-journalism-scholarships-0
The announcement of the scholarship applications (on 19.12.18) by the Minister for Communications and the Arts, Senator the Hon. Mitch Fifield:
https://www.minister.communications.gov.au/minister/mitch-fifield/news/investing-regional-journalism