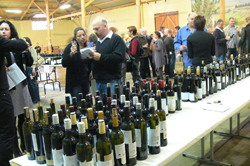 Promoting fine food and wine events in regional NSW might seem the ideal job to many, but a group of Charles Sturt University (CSU) public relations students have their hands full with two major events in Bathurst this month.
The students are heavily involved in the development and management of the annual
Bathurst Region Eats & Drinks (BRE&D)
festival, which this year includes the First Supper dinner on Wednesday 16 October at the Flannery Centre, and the
National Cool Climate Wine Show
, including the wine show public tasting in Bathurst on Friday 18 October.
Mr Donald Alexander, senior lecturer in
public relations and organisational communication
at the CSU
School of Communication and Creative Industries
in Bathurst, said, "Involvement in these events enhance the employment prospects of the University's public relations students, as they gain invaluable experience in designing, implementing and evaluating real-world projects. They get hands-on opportunities for project management, the creative design of promotional material, media liaison (including media release writing and creating photographic opportunities) and client liaison."
Three third-year PR students, Ms Jada Parisi, Ms Rebecca Tomkins and Ms Madalen Smith, are managing Bathurst Region Eats & Drinks, which is sponsored by Bathurst Regional Vignerons. This involves the creation of a new website and online booking system, handling all the promotional and media activity, and liaising with the BRE&D working party and several local chefs for the First Supper dinner.
Reflecting on her involvement, Ms Parisi said, "There have been many challenges associated with working on the BRE&D Week project, but the experience has provided me with first-hand insight into working with real clients and all that is involved in planning and executing a successful event. This project has assisted in preparing me for practicing PR after graduation."
Ms Jenna Campbell and Ms Grace Keeping, who are also third-year PR students, are managing the National Cool Climate Wine Show. This involves promoting show entries to vignerons in cool climate wine areas of Australia through an intensive print media campaign. They are also involved in running the wine show public tasting in Bathurst on Friday 18 October and promoting it through publicity activities, such as regular interviews on local radio and coverage in local print media. They have designed posters and had them printed, along with event tickets and other promotional material for distribution throughout Bathurst and the region.
Speaking about the National Cool Climate Wine Show, Ms Keeping said, "Our input will be pivotal to the success of the event, which is extremely rewarding. Being involved in practical work experiences like the public tasting event has given Jenna and I great insight into what is expected once we finish our degrees."
Other CSU PR students have been involved with the launch of the recent 'Distant Connections' collaborative art exhibition at the Chifley Home and Exhibition Centre in Bathurst; the 'Pinktember' events at the Bathurst RSL; 'R U OK Day' in association with headspace; and the development of a social media presence for a movie enthusiasts group in Bathurst.
Tickets can be purchased
online here
, or from the Bathurst Visitor Information Centre (6332 1444; 1 Kendall Street, Bathurst) to the Bathurst Region Eats & Drinks (BRE&D) First Supper dinner on Wednesday 16 October and for the National Cool Climate Wine Show public tasting on Friday 18 October.