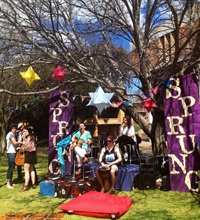 The annual SPRUNG Festival of theatrical performances at Charles Sturt University (CSU) in Bathurst has been nominated for public endorsement as Australia's Favourite Event.
Ms Lucy Harrison, the coordinator of the 2012 SPRUNG Festival, said, "This is really exciting recognition for the festival. It has been staged for the past fifteen years, and what continues to make the festival a success is the strong sense of collaboration and community for students, educators and the region's residents."
"The festival showcases the 'Major Work Research and Performance' projects of students in the final year of the
Bachelor of Communication (Theatre/Media)
, and the combined talents of 90 theatre/media students across all years, and has helped launch the careers of many graduates," Ms Harrison said.
"Each year's event is a really exciting mix of scripted drama, cabaret, quirky comedies, film, devised and physical theatre, and puppetry. The 2012 SPRUNG Festival saw the introduction of the Opening Night Parade, the Festival Marquee, and Crane Bar, while the 2013 Festival saw the introduction of SACK music night, which combined the talents of local Bathurst musicians and theatre/media students."
Australia's Favourite Event
is the public's chance to nominate and vote for the event that most engages them and earns their support. It is open to events such as music festivals, sporting events, community events, cultural and commemorative events. The winner will be announced at the Australian Event Awards Industry Night of Nights on Tuesday 19 November.
Public voting opened for Australia's Favourite Event yesterday, Monday 21 October, with over 7 500 votes already cast for 24 events across the country, including the SPRUNG Festival in Bathurst, Clipsal 500 Adelaide, BluesFest Byron Bay, Adelaide Fringe, Festival of Sails, Mumbrella360, RSPCA ACT Million Paws Walk, Illawarra Folk Festival, and Taste of Sydney.
To vote SPRUNG Festival as Australia's Favourite Event, please visit
www.eventawards.com.au/?v=Sprung
and click vote. Voting closes Tuesday 19 November, is free, takes 15 seconds, and you can vote as often as you like.