* CSU student overall satisfaction for 'Law' in 2016 and 2017 rated 90.7 per cent compared to sector average of 80.5 per cent
* Exceptional results due to a tailored program, online offering, flexibility, residential schools, and weekly tutorials
* The CSU Centre for Law and Justice offers a traditional Bachelor of Laws and a unique curriculum incorporating Indigenous cultural competence
The Charles Sturt University (CSU) Centre for Law and Justice continues to soar in students' overall satisfaction rates.
The national survey data extracted from QILT reveals that CSU Law students in 2016 and 2017 rated the course at 90.7 per cent compared to the sector average of 80.5 per cent.

Since its inception in 2016, the CSU Centre for Law and Justice has continued to actively promote access to justice in regional areas and build regional capacities.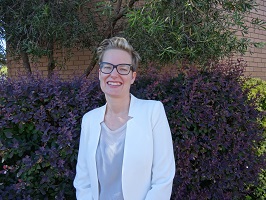 Director of the CSU Centre for Law and Justice Associate Professor Alison Gerard (pictured) said while CSU's law program is still relatively new, compared to other institutions, it's heartening to see the high levels of satisfaction.

"CSU's law program is new, unique and clearly popular with students from all walks of life. The fact that our overall satisfaction rate is above the national average is a testament to the staff, students and curriculum and the exciting learning environment we offer," Professor Gerard said.

"CSU Law offers a traditional Bachelor of Laws curriculum but at the same time, provides an internationally unique curriculum incorporating Indigenous cultural competence and topics relevant to metropolitan and regional law students.

"Our students learn about Indigenous histories, cultures and contemporary social realities. They learn from traditional Elders and national leaders in their field, developing both practical and technical legal skills and knowledge."

Professor Gerard also credits their online teaching delivery as a unique point of difference for CSU in comparison to other law institutions.

"Despite being online, we offer residential schools and weekly tutorials so that students get to build a relationship with their lecturers and peers and have opportunities for virtual and physical face-to-face learning. We provide the best online learning experience that helps students feel part of a classroom, even though they may be dialling in from all over Australia," she said.

"With a high number of adult learners and a good mix of metropolitan and regional students, we tailor our programs to those who are working full-time or have other caring responsibilities. We offer a learning experience that is relevant and flexibly delivered."

IIvana Nanic, a recent CSU law graduate, said the key ingredient to these high success rates was the support of the academic staff, flexibility and the overall environment.

"The academic staff provide a wealth of knowledge in a well-connected and supportive environment, online and through residential school offerings," Ms Nanic said.

"They want you to succeed, and encourage you to understand how you connect with different groups so that we get them the best outcome."