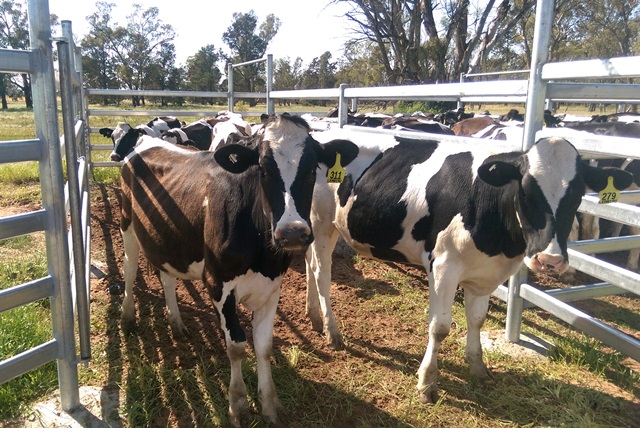 Renewed criticism of Australia's largest dairy processor, Murray Goulburn, has been echoed by a Charles Sturt University (CSU) academic following ABC TV's Four Corners exposé.
Lecturer in farming systems in the CSU School of Animal and Veterinary Sciences in Wagga Wagga, Mr Michael Campbell said there are questions about the legality of how Murray Goulburn operated in promoting the idea of the milk price being sustainable and encouraging dairy farmers to increase production capacity.
"There's also a big question mark over the actions of New Zealand dairy co-operative Fonterra, and how it followed Murray Goulburn in reducing the price paid to some farmers," Mr Campbell said.
"While the drop in milk prices had been on the cards for a long time, what Murray Goulburn did was ignore the fundamentals of the world dairy market and continued to tell farmers they could pay them $6 per kilogram of milk solids by the end of the current 2015-16 season and, as a result, that they should expand their businesses.
"The dairy processor should have just been honest and stepped the price down at the start of 2015.
"In a staged price reduction farmers would have been able to adjust their production system to remain profitable."
The Four Corners program this week showed the fallout from the farm gate milk price cuts and the fact that farmers are being paid less for their milk than it costs them to produce it.
The program revealed farmers are sending stock to the saleyards so they can meet their debts.
"The idea that a dairy processor can retrospectively reduce the price paid to farmers seems unethical," Mr Campbell said.
"Murray Goulburn management are the ones who have made this mistake, not the farmers. I can't recall any other industry where a payment could be reduced retrospectively."
Mr Campbell said, "The fundamentals for dairying are still strong. There is still growth in the consumption of dairy product, Australian dairy systems are efficient and low cost, and arguably turning pasture into milk is still one of the most profitable livestock systems.
"There now exists an opportunity for farmers to reassess their business, do thorough financial and production analysis, and take advantage of the one-to-one support offered through Dairy Australia's Taking Stock program."
Lecturer in politics and political history in the CSU School of Humanities and Social Sciences in Wagga Wagga, Dr Troy Whitford said, "The current crisis facing dairy farmers is an example of what happens when a commodity market is deregulated.
"Many families lost their livelihood when the Australian dairy farmers entered a completely deregulated industry in 2000.
"As we've seen with wheat and wool, without market protection and stabilisation, commodity industries are vulnerable to wild international price fluctuations.
"I am not sure what the Prime Minister Malcolm Turnbull and the Deputy Prime Minister Barnaby Joyce will achieve by their meetings with the management of Murray Goulburn and Fonterra.
"This is a market issue and neither political leaders have shown a desire to re-introduce price stabilisation practices.
"Our problem has been an unbridled approach to free markets and deregulation. Most of it done for ideological reasons, not reasons of economic security.
"A Senate inquiry into the issue will not deliver anything more than a recommendation for compensation for the effects of deregulation. The horse has already bolted."