Charles Sturt University (CSU) researcher, Dr Ruth Sheridan, has won the prestigious 2013 Manfred Lautenshlaeger Award for Theological Promise, making her only the second Australian to do so.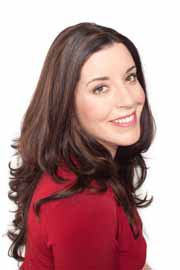 Dr Sheridan is a Post-doctoral Research Fellow in CSU's
School of Theology
located at the United Theological College at North Parramatta in Sydney. She is also a researcher in the University's
Public and Contextual Theology Research Centre
based in Canberra.
The international award is made for the best first book published by the winning candidate after they receive their doctorate and before they turn 35. Australian academic, Dr Graham Wood received it in 2007.
Dr Sheridan's book is titled Retelling Scripture: The Jews and the Scriptural Citations in John 1:19-12:15. The award is announced in November of the year prior to it being given.
Dr Sheridan said she was absolutely thrilled to be one of the 2013 recipients.
"I am honoured to receive this award because of its importance within the theological and wider international community, and its recognition for my first published book," she said.
"My research interests concentrate on the development of Christian anti-Judaism and its intersection with the reception of the Hebrew Bible or Old Testament."
CSU acting Head of the School of Theology, Associate Professor Gerard Moore, described Dr Sheridan's work as world-class.
"Ruth's research certainly adds scholarly weight to the use of the Hebrew Bible in the New Testament, the origins and development of early Christian anti-Judaism, and narrative study of the Bible," Professor Moore said.
"We are thrilled for the recognition she will now receive at both a national and international level."
The award was known as The John Templeton Award for Theological Promise but was only recently changed to the Manfred Lautenschlaeger Award for Theological Promise. The award ceremony will take place in November 2013 at the University of Heidelberg, Germany.