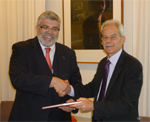 A report by Charles Sturt University (CSU) has found overwhelming public support for its establishment of a new national centre in Canberra that would facilitate research and international engagement to promote religious tolerance and understanding.
CSU Vice-Chancellor and President, Professor Ian Goulter, delivered the Final Report of the Feasibility Study into the establishment of a National Institute for Public Theology for Socially Inclusive Societies to the former Minister for Industry, Innovation and Research, Senator the Hon. Kim Carr, on Tuesday 6 December.
The Vice-Chancellor was joined by the Deputy Vice-Chancellor (Research), Professor Sue Thomas, the Executive Director of the Australian Centre for Christianity and Culture, Reverend Professor James Haire, AM, and the Director, Corporate Affairs, Mr Mark Burdack.
Professor Sue Thomas said, "Australia is recognised around the world for its successful approach to facilitating the social inclusion of a diverse range of religious traditions. As religious tensions around the world continue to grow, there is an important role for Australia to show international leadership to advance our understanding of how different religious traditions can co-exist and prosper in democratic and inclusive societies".