Did you know a potato is classified as a stem, a cucumber is a fruit and that a strawberry is actually covered in hundreds of little fruits? These facts and many more are revealed in a new educational resource at Charles Sturt University (CSU) called Supermarket Botany.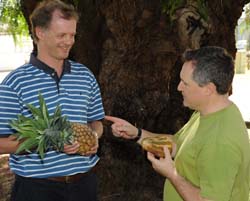 The online resource has been created by
Dr Geoff Burrows and Dr John Harper from CSU as a fun, colourful and interactive platform for teaching students of all ages about the differences between fruits and vegetables, roots, stems and leaves, and the developmental sequence from flowers to fruits.
"We created the site to excite students from primary school to university to learn about plants and improve their understanding of what plant parts they are eating," said Dr Burrows from the CSU
School of Agricultural and Wine Sciences
at Wagga Wagga.
"In addition to providing useful information about fruits and vegetables, Supermarket Botany invites students to take 'The Challenge' by selecting items 'on the shelf' and identifying them as mainly composed of root, shoot, leaf, flower, fruit or seed."
The site is full of helpful hints to lead the student to the correct answer and high quality images and labels enable the student to see the evidence.
"You will discover that lettuce is closely related to thistles and why tomatoes were designated a vegetable in the United States of America as an Act of Congress," said Dr Burrows who was inspired to design Supermarket Botany when he was asked to run a 'hands on' plant demonstration at the Henty Field Days in 2008.
Supermarket Botany
can be found
here.