A human face to the broad field of information studies could well be Canadian Lisa Given, a new Professor at Charles Sturt University (CSU).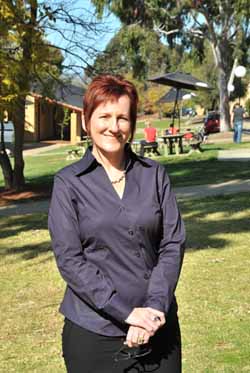 On the first day of winter, Lisa Given arrived in the regional Australian city of Wagga Wagga from Canada's University of Alberta to take up her role as Professor of Information Studies.
The abrupt change of season may have been bracing for many but not Professor Given, who is used to a Canadian winter when the mercury can plummet to a low of minus 40 degrees Celsius.
Don't limit Professor Given's chosen discipline with mere libraries or you will be quickly corrected; the field is far more diverse and broad than librarianship.
"Information studies is about how information affects people's lives," explained Professor Given, who is based in the
School of Information Studies
at CSU in Wagga Wagga.
"It incorporates how you organise material; how you keep track of information; create databases and websites. It can be very focused on humans and on what information is needed by individuals and how they evaluate that information.
"Information is everywhere. It affects every corner of people's lives from health care to education to their work and play. Everyone is required to access some sort of information at some time.
"Information practitioners can work in so many areas; in a traditional public library, a bank, museum or in archives.
"Our goal in the field of information studies is to find ways to package the information and to guide people through what can be a maze."
Professor Given is in the right place. CSU is home to the largest information studies program in Australia with more than 1 700 students studying the discipline by distance education from the undergraduate level through to PhD.
"It is unusual to find a program such as the one here at Charles Sturt University where information studies is offered purely by distance education," said Professor Given. "It was one aspect which attracted me to this position.
"Charles Sturt University has a very good reputation in my field in North America and Europe. There are academics from all over the world here including Pakistan, Ireland, USA and now Canada. It is appropriate given our field is borderless.
"Part of my new position at Charles Sturt University is to shape the research culture. There is so much promise here with active early career and more senior researchers. I hope to give direction towards more collaborative research and provide mentorship to build on the solid base."
This is a task Professor Given is well qualified for as she has published more than 70 books, articles and chapters. She has researched how humans interact and behave with information and web usability.
"I am interested in how people engage with information to answer questions whether it is seniors finding information online to make decisions about health care or student experiences at university.
"I have also looked at the physical environment and its effect on how people learn. In a stark classroom it is difficult for students to engage with information and simple changes can make a difference to how they learn."
Professor Given also has an impressive record as an expert witness in immigration cases in the Federal Court of Canada where she has testified about the credibility of internet resources used by authorities.
Now in Australia, Professor Given is familiarising herself with her new home. She has found the countryside not unlike the one she left behind in Canada.
"One of the big attractions of living here is the absence of what I call the 'Walmart culture' of shopping and the fact you can be outside 12 months of the year. Cycling in winter is unheard of in Canada," said Professor Given.