Equipping the next generation of agricultural scientists and business managers with an international perspective on new technologies and farming practices is behind an overseas study trip by 27 Charles Sturt University (CSU) students.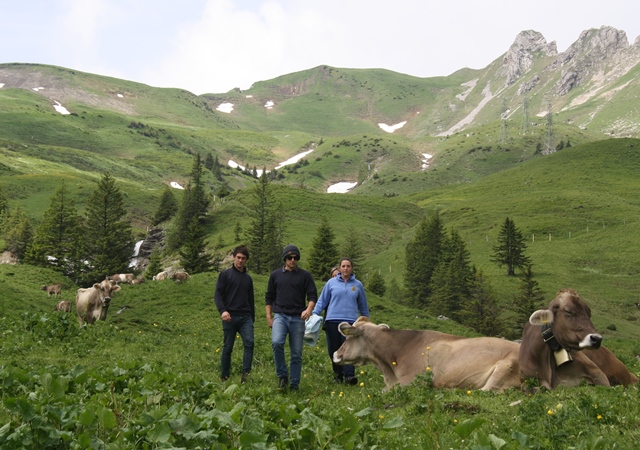 The students have recently returned to their on campus and online studies in agricultural science, agribusiness management and horticulture following their 16-day agribusiness tour of four European countries.
Arriving in Paris, the students visited what is hailed as the largest fresh food market in the world the Marche de Rungis, which spans 230 hectares of covered market space.
Using a farm stay in the western French commune of Challans as a base, the students then explored sections of the agribusiness chain from crop production to input controls and regulations as well as complex land ownership and product identification loops.
A robotic dairy in France and alpine herd management in Switzerland provided clarity on the international high levels of concern for animal welfare, and the importance of the ability for a consumer to trace the product from the farm gate to plate.
On the CSU Global trip was Ms Kaitlyn Munro, a final year of a Bachelor of Agricultural Business Management at CSU in Orange and Ms Casey Skalski who is studying a Bachelor of Agriculture online with CSU as well as tour leader and lecturer Ms Wendy Dymond.
Both students have described the robotic dairy near Nantes as 'fascinating' and Ms Skalski said, "The technology behind the machine is brilliant. The computer is able to communicate with a collar on the cow and therefore provides lots of information to the farmer on the health of the animal.
"The cattle over in France were also kept in barns for the majority of the time, which I found interesting, as cattle over here in Australia live outside. But then again, the climatic conditions are very different," Ms Skalski said.
Ms Munro said, "Although there is robotic dairy technology in Australia it is not as actively used. I found it highly useful for farmers to have additional time for family instead of 'being married' to the cows. The technology reduces the intensive labour component of dairy farming. This frees up farmers to focus on other areas of their business.
"The robots can even identify cattle which need to be artificially inseminated or which require medical attention such as antibiotics for mastitis," she said.
The students also got first-hand experience of the unique Groupement Agricole d'Exploitation en Commun, or GAEC, farming structure in France.
Ms Dymond said the GAEC structure involves a group of usually three to five working farmers forming an association to improve efficiencies and allowing for transfer of land ownership.
"It improves economies of scale and provides a mechanism for younger people to become farmers, with tax and subsidy benefits."
Ms Munro said, "I found the GAEC structure interesting as it assists young farmers to be actively involved with a property without the huge financial burden of having to have the money to purchase their own land.
"I feel as though that this takes the pressure off young farmers who want to own land. However if their family has property, they're guaranteed a portion of the land through inheritance."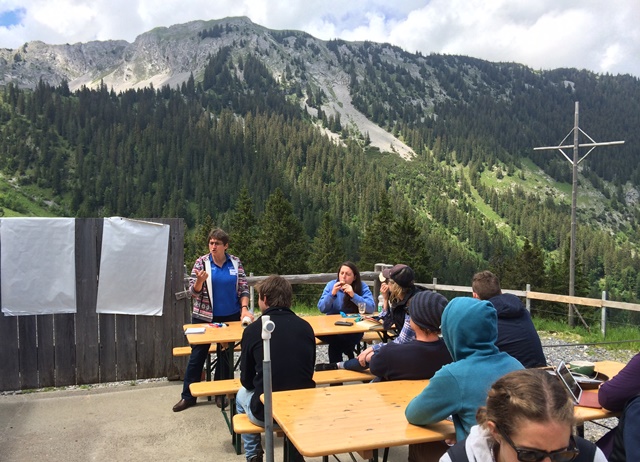 Ms Dymond said, "Few farmers we visited had a single main enterprise.
"Primary agricultural production is generally more labour intensive partly due to the size of the properties and accessibility of properties in the mountainous regions as well as the complexity of the land title system.
"Most farms integrate animal production with a range of cropping systems, often including additional income streams such as farm shops or sustainable energy production."
The students also visited cultural sites such as Dachau concentration camp in Germany, the Australian National Memorial near Villiers-Bretonneau and major western European cities.
Reflecting on the international study trip, Ms Munro said, "It allowed me to witness and come to understand a range of agricultural practices and cultures that I would not otherwise have been able to experience."
Ms Skalsi believes an international study experience is something that every student should do at some stage during their degree.
"I found myself forging strong relationships with the other tour 26 participants, having pretty much once in a lifetime experiences and really defining what direction I want to take my studies and what career path I want to take once I graduate."
CSU European agribusiness trip 2016 at a glance:
- 27 students from CSU in Albury-Wodonga, Orange, Wagga Wagga, the Muresk Institute in Western Australia and those studying through CSU online visited Western Europe from Saturday 18 June to Tuesday 5 July, 2016.
- These students are currently studying Bachelor of Agricultural Business Management, Bachelor of Agricultural Science and Bachelor of Horticulture at CSU. They are studying on campus at CSU, on campus at CY O'Connor Institute at the Muresk Institute in Western Australia and by CSU online.
- CSU Global supported the European agribusiness program including through a Vice Chancellor's Traveller Grant.
- The trip spanned four countries: France, Switzerland, Germany and Belgium
- It included 34 agribusiness visits such as a robotic dairy, French agribusiness university AgroParis, shedded sheep, alpine herdsmen, cheese-making, abattoir, Marche de Rungis, vegetable production, winery, Bayer Bee centre, greenhouses and research laboratories, Claas manufacturing plant, retail outlets, cropping and pasture production, chicken and turkey production, salt production, alternative energy production, animal health research and development
- 17 cultural visits including Dachau concentration camp, Australian National Memorial and museum near Villiers-Bretonneau, Chateau de Chambord, Swiss alpine living, French farm stay and European cities.
- Themes for the tour included animal ethics and welfare, subsidies, sustainability, land ownership and use, technology and labour, energy and water, bio and organics.