Why is it that, while most scientists are in agreement on climate change, the media says otherwise?
A team of Charles Sturt University (CSU) researchers intend to answer this question through a study looking at how information on climate change is communicated.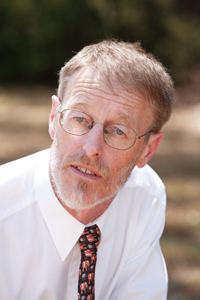 "Climate scientists are mostly in agreement about climate change whereas the portrayal in the media is one of disagreement," said
Professor Kevin Parton
, an agricultural economist who specialises in the use of climate data with CSU's
Institute for Land, Water and Society
(ILWS).
"We intend to investigate why this difference exists; what has caused the difference; and why is it that the public doesn't pick up on the fact that there is almost universal agreement amongst scientists. We are looking at the media as a 'filter' of scientific information and how that process works."
Professor Parton, who jointly leads the ILWS Strategic Research Area on Social Aspects of Climate Change, is one of nine researchers developing a project on 'Communicating the economic impacts of climate change'.
He said while it is very clear there is a problem with climate change communication, only a small amount of research is being done on it. Regularly interviewed by the media on the economics of different climate change policies, Professor Parton has noticed a change in the way journalists approach the topic.
"A year ago I would not have had to start an interview by defending the idea that there is climate change," Professor Parton said. "The problem is that when you provide more and more information (as scientists are now doing with climate change) you tend to get fewer people believe what you are saying because the message is getting more complex."
An added difficulty is that, as the amount of information produced increases, so do the errors.
"While proportionately there are few errors in the information provided, because more work is being done, there are, in absolute terms, more errors and that is what the media focuses on," he said.
So far, the CSU researchers have identified that:
If your ideology is conservative then you are less likely to believe in climate change; and,
Education is directly related to a belief in climate change, with people who have a tertiary education more likely to believe in climate change than those who don't.