With a passion for science, agriculture and rural Australia, Charles Sturt University (CSU) research student Ms Lucy Watt will be recognised on Australia Day.
The National Council of Women of NSW will present Ms Watt with an Australia Day Award, sponsored by the Country Women's Association Sydney branch to help further her postgraduate studies.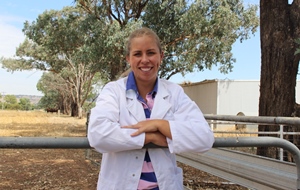 Originally from Cumnock in NSW Central West, Ms Watt completed a Bachelor of Animal Science (Honours) at CSU before undertaking her PhD.
"I came from a small country town and became interested in pursuing a career in science at high school," Ms Watt said.
"Although both agriculture and science are traditionally male dominated, I couldn't imagine doing anything else.
"I'd strongly encourage other young women to consider a career in this field."
Head of the School of Animal and Veterinary Sciences at CSU in Wagga Wagga, Professor Glenn Edwards said, "Lucy is a remarkable young woman who is dedicated to rural Australia.
"She is an outstanding scholar and an active contributor to many aspects of university life.
"Lucy has shown great aptitude and enthusiasm for livestock research with a clear understanding of the importance of sound research to the development of Australia's livestock industries."
During her PhD through CSU's School of Animal and Veterinary Sciences and the Graham Centre, Ms Watt is investigating livestock (sheep) production on new varieties of annual legume pastures both as grazed pastures and conserved forages.
"I'm passionate about what I do and hope that my research will contribute to greater profitability in the livestock industry," Ms Watt said.
"I love science and I think that women have a huge amount that they can contribute to the agricultural sector.
"I hope to continue a career in agricultural research and development and one day take on an educational role to encourage other young women and men to pursue a research career as well."
Ms Watt will receive her award at the National Council of Women of NSW luncheon, Celebrate Being an Australian from 12.30pm on Friday 27 January at NSW Parliament House in Sydney.