From increasing our understanding of native fish through to informing policy on environmental water flows, the contributions of a group of Charles Sturt University (CSU) researchers is being celebrated.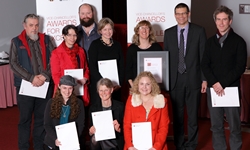 The Institute for Land Water and Society's Sustainable Water Strategic Research Group has received the 2015 Vice-Chancellor's Award for Research Excellence, an annual award recognising outstanding achievement across CSU.
The 19-member team spans academic disciplines to undertake research in environmental flows, wetland conservation and management, fish ecology, and adaptive management.
It's been recognised for making a sustained and exceptional contribution to water research in Australia and internationally.
Team leader, Associate Professor Robyn Watts said, "We are one of the main groups investigating ecosystem responses to environmental flows in Australia and have made a substantial contribution to Australia being recognised as a world leader in this field.
"Our research has underpinned policy and the delivery of Commonwealth and State held environmental water.
"Charles Sturt University has made a significant contribution to fish ecology knowledge and our research on wetland conservation is providing guidance on managing wetlands under climate change and in response to agricultural pressures."
The team attracted grants of more than $5.4 million between 2010 and 2014 and has recently been awarded $6.9 million for two large water monitoring projects over the next five years.
The group has completed several major research projects over the past five years including:
Six short‐term projects on ecosystems responses to Commonwealth environmental watering in the Edward‐Wakool and Murrumbidgee completed between 2011 and 2014.
CSIRO Flagship Cluster – Ecological responses to altered flow regimes project (2010 ‐2014), a multidisciplinary national research collaboration.
Two projects on climate change mitigation and adaptation in catchment management funded by the National Centre for Climate Change Adaptation Research Facility (2012‐2013).
Project on fish friendly design for small hydro facilities funded by the Australian Centre for Renewable Energy (2012‐2014).
The 19-member team includes:
Associate Professor Robyn Watts as team leader; Mr James Abell; Dr Catherine Allan; Ms Carmen Amos; Dr Mariagrazia Bellio; Mr Bradley Clarke-Wood; Professor Max Finlayson; Ms Tamsin Greenwood; Dr Andrew Hall; Dr Julia Howitt; Dr Paul Humphries; Dr Kim Jenkins; Dr Richard Keller Kopf; Dr Nicole McCasker; Dr Wayne Robinson; Ms Nikki Scott; Dr Skye Wassens; Dr Benjamin Wolfenden; and Dr Alek Zander.