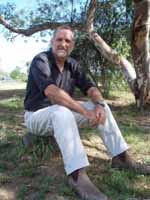 A leading Australian scientist, recognised internationally for his work in wetlands, says better management of the world's wetlands will help alleviate the effects of climate change.
"Many wetlands contain a lot of carbon and when they are degraded they can release large quantities of carbon dioxide and methane with methane much worse than carbon dioxide in terms of the greenhouse effect," says Professor Max Finlayson, Director of the
Institute for Land, Water and Society,
a major research institute at Charles Sturt University.
"Some wetlands naturally release carbon gases but degrading them can release a lot more. So maintaining wetlands is better for climate change."
Professor Finlayson says the current clearing, burning and draining of peat forests and swamps in South East Asia so oil palms can be planted for biofuel production was an example of this degradation.
"This clearing is being driven by biofuel policies in western countries, but the resulting release of carbon dioxide into the atmosphere is having a major greenhouse effect and a huge effect on human health due to the smoke haze across many countries in the region," says Professor Finlayson.
"In Australia we have forested wetlands such as mangroves that are important stores of carbon that are still being cleared to make way for urban developments and harbour infrastructure."
Professor Finlayson is concerned there is not enough scientific knowledge about or recognition of the importance of the effects of clearing mangroves on carbon emissions.
Professor Finlayson will raise these questions at the 10th Conference of the Contracting Parties to the Ramsar Convention on Wetlands in South Korea, running from 28 October to 4 November.
Professor Finlayson is the longest serving member of the Convention's Scientific and Technical Review Panel, which he chaired from 2002 to 2005. At the conference, he will be acting as a technical advisor to the Convention's Secretariat on climate change and wetlands, human health and wetlands and a proposal for assessing changes in global biodiversity. He will present talks on climate change and wetlands, agriculture and wetlands, and the use of remote sensing in wetland management.About 2 000 people from 160 member countries of the Ramsar Convention will attend the conference which is held every three years.
"Ramsar's mission is to conserve and make use of the world's wetlands," explains Professor Finlayson. "It is an intergovernmental agreement which encourages and guides governments on the wise management of wetlands."
Currently there are 1 600 wetlands globally – about ten per cent of known wetland area - listed as internationally important, with 65 in Australia including Kakadu in the Northern Territory, the Lower Lakes in South Australia, the Barmah-Millewa Forest on the Murray River and the Macquarie Marshes in Central NSW.
"Climate change is a major issue that the Convention needs to address," says Prof Finlayson. "Past efforts to raise this issue have fallen short but the latest Intergovernmental Panel on Climate Change (IPCC) report and the state of wetlands in the Murray-Darling Basin means it is now imperative that we address the issue. We've waited too long.
"I will also be looking at how vulnerable wetlands are to rising sea levels; how we cope with climate change in using wetlands and conserving biodiversity; and how can we use wetlands to mitigate some of the efforts of climate change by storing carbon."
Professor Finlayson was recently formally recognised by the IPCC for his contribution to the Nobel Peace Prize that the IPCC was awarded in 2007.