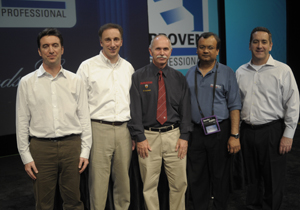 Charles Sturt University (CSU) has been celebrated as being among the first universities worldwide to offer an integrated Masters program in managing data storage at
EMC World
, an EMC Corporation global conference held recently in the United States.
Managing storage growth of electronic data is the most critical issue confronting 82 per cent of information technology (IT) and storage managers, according to a presentation at the conference.
CSU's Associate Professor John Messing recently returned from the conference, which gave nearly 10 000 participants insight to the future issues of electronic data storage.
"The shortage of technological storage skills within large businesses such as banks and legal firms was highlighted at the conference," Professor Messing said. "These businesses know the strategic importance of information storage to provide a better service so we've seen a 25 per cent growth in these types of IT professionals."
To meet the needs of large businesses and their potential information storage needs, CSU, one of Australia's leading providers of flexible learning programs, has entered an agreement with EMC to deliver industry relevant courses to CSU information technology students.
David Webster, President of EMC in Australia and New Zealand, says, "Information infrastructure is about building intelligent storage solutions that are secured and protected and add value to the organisation as a whole. It is essential that organisations all over the world understand the impact of the huge amounts of digital information being generated and stored."
As a result of an agreement with EMC, CSU will integrate EMC's Proven™ Professional Expert Level certification in the streams of 'Technology Architect' and 'Implementation Engineer' within CSU's Master of Information Technology. The University will also teach an EMC storage technology course to their undergraduate students.
"The collaboration with EMC Corporation provides CSU students with access to professionals with top qualifications which they would find difficult to access otherwise. We can now offer this credit arrangement with an industry accredited certification in storage technology. This creates a Masters degree for people with an initial qualification and who are looking for further qualifications that last for life," Professor Messing says.
With a strong record of providing quality Masters level courses with computer industry leaders such as Microsoft, Cisco and Sun, CSU believes its strengths lie in offering globally accessible degrees through well tested distance education programs.
"It has been estimated that by 2012, the information industry will need nearly one million additional storage technology professionals," Professor Messing said.
"With this internationally recognised certification, we believe our graduates can write their own ticket into the IT sector."