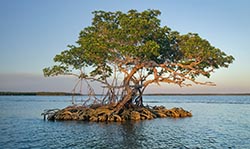 An internationally recognised Charles Sturt University (CSU) researcher has shown that the decline of some coastal wetlands around Australia can be attributed to climate change, rising sea levels and current water and land management practices.
At the Society of Wetland Scientists' annual meeting in Puerto Rico, Director of the CSU Institute for Land, Water and Society, Professor Max Finlayson, showed that the threats from climate change are being seen and will continue.
"Wetlands are in the frontline in defences against the effects of climate change," Professor Finlayson said.
"They stabilise our coastlines, store large amounts of carbon, and protect many of our assets and our livelihoods. But coastal wetlands are under threat from climate change, we already see it happening in Australia."
At the international meeting, Professor Finlayson presented evidence collected by a number of institutions to show that mangroves lining the coastline of Kakadu National Park in the Northern Territory have died back 20 per cent in the past three years.
"This was attributed to climate change, with lower rainfall, higher temperatures and depressed tides contributing to the decline. This is in stark contrast to the spread of these same mangroves in previous decades."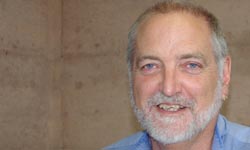 In addition, Professor Finlayson presented work, co-authored with Professor Peter Gell from Federation University, on ecological changes and monitoring of wetlands in the mouth of the Murray River.
"Our research showed the dynamic nature of these wetlands, which are protected by the international Ramsar Convention on Wetlands, and the options for managing them.
"Indeed, we even questioned whether past baseline levels for biodiversity and water quality used to assess the ecological health of the wetlands are still even relevant given recent changes."
In questioning the baseline data, Professor Finlayson stressed that, "we should look at ecological change over thousands of years rather than a few hundred.
"We can then focus on a range of suitable past and future targets for the environment that would encourage the wise use of ecosystem services provided by wetlands."
In recognition of the pending crisis posed by climate change for many coastal wetlands worldwide, more than 200 attendees, including Professor Finlayson at the conference in Puerto Rica signed the San Juan Statement on Climate Change and Wetlands.
The statement supports the international frameworks that address climate change, such as the Paris Climate Agreement, and recognises the role that wetlands play in reducing atmospheric carbon worldwide while protecting huge populations and built assets along coastlines.
In addition, Professor Finlayson and Dr Anne van Dam from IHE at Delft in the Netherlands, are working with the Ramsar Convention to develop a project to investigate the vulnerability to climate change of wetlands around Caribbean islands.