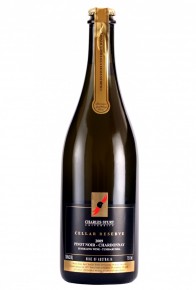 Charles Sturt University (CSU) Winery's
2009 Reserve Sparkling has been recognised as the country's best boutique sparkling white at the 2013 Australian Boutique Wine Awards.
The 2009 Reserve Sparkling was awarded a gold medal and judged to be the top drop among almost 40 other wines in the class.
The win follows on from the Best Sparkling Trophy at the 2013 Cowra Wine Show last month. Read more on CSU News
here
.
The 70 per cent Pinot Noir, 30 per cent Chardonnay blend is bottle fermented in the traditional method and made from fruit grown in Tumbarumba.
CSU winemaker Mr Andrew Drumm said the two trophies underlined the fact that Charles Sturt University Winery products could compete with the best in the business.
"We've been making great sparkling wines for years, but it is nice to receive this sort of industry recognition," he said.
"We've been making wines, and making winemakers, here for more than 30 years. There's not too many wineries who can draw on that sort of history and experience, and I think it shows in the products we're putting on the shelf."
Mr Drumm said the 2009 Reserve Sparkling was a rare gem from a difficult vintage.
"Some growing regions were hit by heatwave conditions which severely affected the crop in 2009, but Tumbarumba escaped," he said.
"The cool climate of the area helped the fruit retain natural acidity. The Chardonnay developed the typical citrus characters that suit a really good sparkling white, and the Pinot Noir brings a subtle sweetness to the nose and palate.
"The nose of the wine is complex, with restrained red fruits and citrus and subtle yeast characters. The palate is very fresh, with the complex citrus, biscuity characters coming to the fore.
"The wine has a line of acidity which will allow it to age for several years and gain further complexity."
The wine underwent primary fermentation in stainless steel before being bottled for the secondary fermentation and crown sealed.