In a world-first, researchers at Charles Sturt University (CSU) have piloted the use of Hexoskin wearable technology in their holistic assessment of early childhood educators' well-being.
Early childhood researchers Associate Professor Sandie Wong and Dr Tamara Cumming in the CSU School of Teacher Education in Bathurst will lead a multi-disciplinary team in the research being undertaken with over 30 educators working in prior-to-school settings.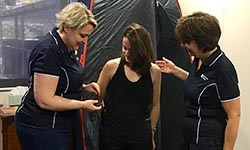 Professor Wong explained that the Hexoskin shirt (pictured left during fitting) looks like a sleeveless rash vest, with sensors embedded to monitor and record biometric data at one-second intervals.
"Hexoskin smart shirts allow us to measure educators' heart and breathing rates, their number of steps and activity intensity over the course of a day's shift," Professor Wong said.
"For the first time, we expect to be able to quantify how hard educators work during their day, and what the particular stresses are on their bodies."
Professor Wong and Dr Cumming will use the Hexoskin data in combination with tests of educators' salivary cortisol levels (to determine stress levels), general health checks and a survey of the educators' psychological well-being and work environment quality.
"Using this multi-disciplinary approach we will get a holistic picture of educators' well-being, and that will help us to best target our efforts to find effective interventions," Dr Cumming said.
The pilot project is being funded by the CSU Faculty of Arts and Education. The project involves a multi-disciplinary team that includes Dr James Crane and Mr Alexander MacQuarrie from the CSU School of Biomedical Sciences, and Dr Audrey Wang, an educational psychologist, in the School of Teacher Education.