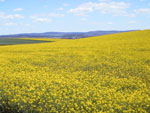 Charles Sturt University (CSU) has responded to recent calls by the National Farmers Federation (NFF) to tackle labour force needs in Australian agriculture by updating its Bachelor of Agricultural Business Management.
A recent report published by the NFF called for increased availability of skilled, job-ready workers who are able to work across the sector. This report comes on top of the realisation that there are too few graduates emerging from university given the industry's need for graduates with a higher level of skills.
"We have taken the best of two courses which have been offered through the Faculties of
Science
and
Business
and created a course, the
Bachelor of Agricultural Business Management
, that will enable graduates to fill the need of workers in on-farm and off-farm sectors," course coordinator Mr Kerry Cochrane said.
"The science and business academics at Charles Sturt University have always maintained a strong collaboration with the industries they cater for. Most agricultural courses specialise in production, science or agribusiness, where up to 80 per cent of subjects are concentrated in that specific field. By working closely with those industry bodies that employ our graduates, we have created a course that continues to develop a productive, high-standard Australian workforce.
"The new course provides an even mix of business, management, production, and science subjects to ensure graduates have a solid understanding of the industry. Graduates will be well versed in all aspects of the agricultural sector, both on-farm and in the industries that service the farming community."
Mr Cochrane said that Orange has maintained a significant presence as a centre for agricultural management studies from its inception as the Orange Agricultural College in 1974. "The mix of business studies and on-farm applied agricultural subjects will enable students to meet the needs of an industry that is desperate for specialised skills."
In addition to the wider range of applied subjects, the course will continue to maintain its applied approach to management studies, including local and international tours. Mr Cochrane said one of the major pluses of the new course is that it is emerging at a time when on-campus life at CSU at Orange is enriched through the presence of students from an array of different courses such as pharmacy, dentistry, nursing, physiotherapy and medical science.
"Furthermore, practical-based learning gives students the edge when it comes to life outside tertiary education. Graduates of the course know they can walk into a job within the agricultural industry with management skills. Our graduates are job-ready and enthusiastic to take on any challenge put before them," Mr Cochrane said.
The updated Bachelor of Agricultural Business Management course will commence both on-campus at CSU at Orange and via distance education in Session One, 2010.