For equine surgeon Associate Professor Bryan Hilbert, treating unusual congenital deformities in large animals is a challenge and a teaching opportunity for veterinary science students at Charles Sturt University (CSU).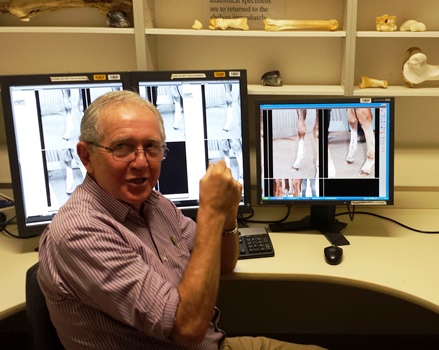 In the large operating theatre at the University's Veterinary Clinical Centre, Professor Hilbert and his team have removed a leg from the skull of a calf, and in 2013 they removed a 'spare' leg from the foal.
While Professor Hilbert described his prognosis for the foal at the time as 'cautious', the horse – aptly named Spare Parts – will take to the track on Tuesday 28 July for its third race in the 1 200 metre Maiden Handicap at the Murrumbidgee Turf Club (MTC) at Wagga Wagga.
Trainer Trevor Sutherland donated the deformed foal to the University in 2013. Professor Hilbert and his team at the Veterinary Clinical Centre diagnosed it with a condition called 'polydactyly'.
"Essentially the foal's splint bone incorrectly developed into a small limb with a canon bone, a fetlock joint and a small deformed hoof. So we had to remove the additional leg and all its associated tendons and ligaments," Professor Hilbert said.
"The two-hour operation was a valuable experience for the students, who will, of course, go on to develop their own careers in veterinary science."
"The condition is unusual but not rare. I have seen about four cases in my professional life.
"I was not 100 per cent certain at the time of the surgery that the foal would go on to stand up to the substantial rigours and pressure of training and racing."
The CSU academic admits he is 'pretty happy' with the outcome. He says he will keep an eye on the second race at the MTC today.
With an academic career in Western Australia, the USA and Ireland, Professor Hilbert also ran an equine surgical referral practice in WA, before joining CSU in 2007 to oversee surgical training at the Veterinary Clinical Centre.
The Centre, adjoining the Riverina Equestrian Centre Charles Sturt University, is in the School of Animal and Veterinary Sciences. It includes a large animal hospital with operating theatres, diagnostic imaging facilities including the state's only veterinary CT unit, an animal breeding facility and small animal teaching laboratories.
Staff at the Veterinary Clinical Centre provide a first opinion and a referral service for horse owners and veterinarians, and a referral service for farm animals.
It is open from 8.30am until 4.30pm from Monday to Friday, and provides an after-hours emergency service at night and on weekends 0419 385 049. Appointments can be made by telephoning 02 6933 2604 or email vcc@csu.edu.au.