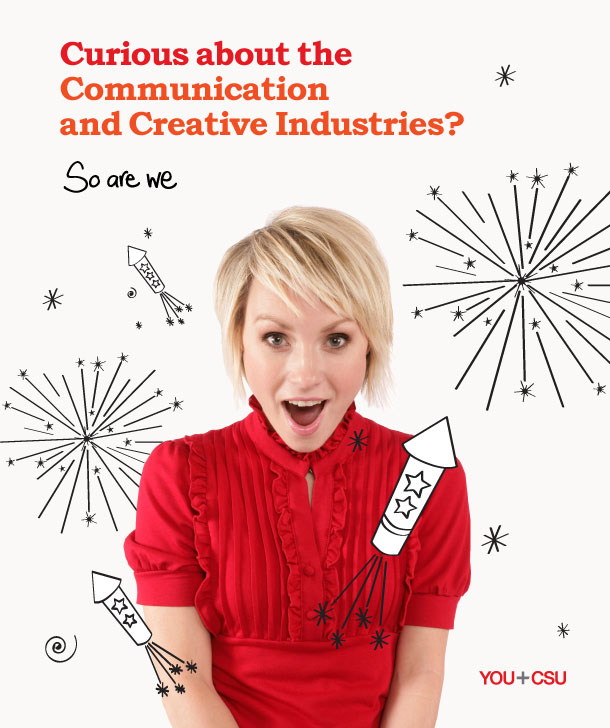 A new suite of communication and creative industries courses at Charles Sturt University (CSU) has been designed to provide graduates with better job prospects and help future-proof their careers.
Course director Mr Brett Van Heekeren, at CSU's
School of Communication and Creative Industries
, said the new course structure provided a variety of specialisations and ongoing course renewal, giving students more flexibility and versatility.
"The communication and creative industries – journalism, public relations, advertising, arts, photography, animation and visual effects, graphic design and stage and screen – are dynamic industries undergoing rapid change," he said.
"Charles Sturt University's courses in communication and creative industries have always set the pace with one of the highest graduate employment records in Australia.
"We have an outside broadcast van, two fully equipped TV studios, a radio station, a multifunction media centre, and a professionally operating news room," he said.
"We also have three performance theatres, an in-house advertising agency, a PR consultancy, state of the art sound and animation studios, photographic studios and visual arts studios,
"We pride ourselves on the achievements of our graduates and can boast some of Australia's best-known media personalities as alumni."
Mr Van Heekeren said the new course structures would ensure CSU continued to give graduates every professional advantage in a tight employment market.
"Students can now choose from a variety of career paths and select subjects across discipline areas, ensuring graduates are more widely skilled and employable in the changing work environment," he said.
For example, a student studying a Bachelor of Communication (Advertising) could also choose subjects from the graphic design specialisation or the public relations specialisation, or a combination of both.
The three discipline areas will be:
Bachelor of Communication with specialisations in advertising, commercial radio, journalism, public relations or theatre/media
Bachelor of Creative Arts and Design with specialisations in animation and visual effects, graphic design or photography
Bachelor of Stage and Screen with specialisations in acting, design or TV production
Students interested in studying more than one of these disciplines can choose from a range of double degrees. More information is available
here
and prospective students can register an expression of interest at
www.csu.edu.au/contacts/register-interest
.