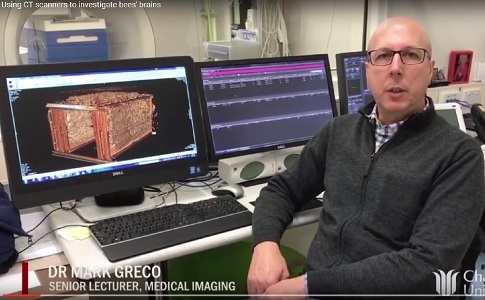 A Charles Sturt University (CSU) medical radiation scientist reveals the hidden and intricate process of caterpillar metamorphosis for the upcoming David Attenborough Micro Monsters program on ABC TV.
Dr Mark Greco, senior lecturer in medical imaging in the CSU School of Dentistry and Health Sciences has developed innovative methods for studying insects and their behaviour using non-invasive imaging which is termed 'diagnostic radioentemology' (DR).
The program to air on ABC TV on Tuesday 10 October at 8.05pm details the use of a CT scan of a chrysalis to reveal the internal physiological processes occurring within caterpillars.
Dr Greco is currently using this technology as part of a research project funded by the Eva Crane Trust to understand the impact of environmental pollutants on bees.
"Bees accumulate a cocktail of pollutants during pollination when the insects collect nectar from flowers," Dr Greco said.
"These pollutants have serious implications for the health of bee colonies, the continuity of pollen-propagated plants and food crops, and the wider farming and food production industries.
"Prior to this technology, invasive manual methods were used that harmed the insect."
Micro Monsters reveals the hidden world of insects and is the latest from the famous nature documentary maker David Attenborough.
More information on Dr Greco's research and a series of CT scan videos can be viewed here.