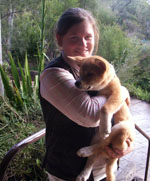 "There's nothing quite like a lion's roar, it just vibrates through your chest," says Charles Sturt University (CSU) student Ms Emma Dunston, who is preparing to travel to Africa as part of her
Bachelor of Animal Science
studies.
Ms Dunston is one of four CSU students who will spend two weeks as a volunteer with the Livingstone Lion Rehabilitation and Release Program in Zambia in November.
Wild lion populations in Africa are declining and this program aims to release wild born offspring, from rehabilitated captive bred lions, into appropriate national parks and reserves.
During their visit, students will help care for lion cubs, participate in research and take part in education projects teaching local people about lion conservation.
They will also be involved in a lion walking program, where cubs are taken into the wild each day to help develop hunting and survival skills.
She will undertake Honours study in 2012, researching lion behaviour and welfare in Australian zoos.
"I've always had a passion for working with animals, in particular the big cats," Ms Dunston said. "This trip will help me find out if I like working with animals in a wild setting, as opposed to those in a zoo environment, and if I want to work in Africa in the future."
She is looking forward to gaining hands-on experience with lion cubs and feels it's an opportunity to make a positive contribution to wildlife conservation.
"Lion populations in Africa are under threat. They're hunted by locals because they pose threats to livestock and their habitat is being destroyed," Ms Dunston said. "It is important that these magnificent creatures are conserved so that future generations can see them in the flesh, rather than just in pictures and museums."
The students will undertake the practical placement in Zambia with support from
CSU Global
, a University initiative which aims to increase the number of students undertaking international experiences as part of their studies.