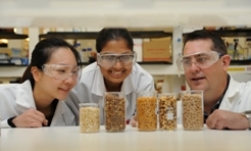 Charles Sturt University (CSU) has announced its intention to establish an AgriSciences Research and Business Park in Wagga Wagga.
Expected to open by mid-2017, the vision for the AgriSciences Research and Business Park is to foster collaboration and innovation between agriscience and agribusiness companies co-located with Charles Sturt University and New South Wales (NSW) Department of Primary Industries (DPI).
The AgriSciences Research and Business Park will also provide recognition for Wagga Wagga as a leading centre for agriscience innovation, research and development, extension, education and training.
"The proposed Park will create an environment to facilitate meaningful collaboration between tenants, staff and students, and the wider regional and national agricultural and agriscience focused communities," Professor Andrew Vann, Vice-Chancellor said.
"Supporting knowledge transfer and innovation, drawing on the research and development capabilities and facilities offered by Charles Sturt University and future tenants, the Park will help to close the gap between research discovery and the real world impact of a knowledge economy.
"It will also provide opportunities to enhance students' skills and knowledge through workplace learning experiences and facilitate continued professional development for Park tenant employees.
"In addition, the Park will drive regional economic growth and expand employment opportunities for the Wagga Wagga community."
The AgriSciences Research and Business Park will be constructed on vacant land at CSU's Wagga Wagga Campus, along Agriculture Avenue and adjacent to Pine Gully Road. Construction will comprise of purpose-designed buildings supported by service infrastructure suitable to accommodate long-term tenants.
Professor Mary Kelly, Acting Deputy Vice-Chancellor (Research, Development and Industry) said, "The establishment of an AgriSciences Research and Business Park in Wagga Wagga is timely as agricultural production, food processing and agribusiness have been identified as Australia's most promising source of future economic prosperity. The growth of our agricultural industry and future food security depend on innovation to drive productivity.
"We must produce more food, using proportionally fewer resources which can only be achieved through coordinated and well directed research, development, education and training integrating industry with universities and state agencies".
"Wagga Wagga is also the ideal location for an agricultural innovation cluster, located in the heart of one of Australia's largest food bowls, home to major production, food processing and service companies with excellent transport links to major cities and ports."
The AgriSciences Research and Business Park will be home to a vibrant network of agriscience and agribusiness companies, and agricultural service providers, housed on the University's Wagga Wagga campus. Companies and organisations will be invited into the Park based on synergies between their activities and those of CSU and its partner stakeholders, and the benefits that these will provide to the University's communities.