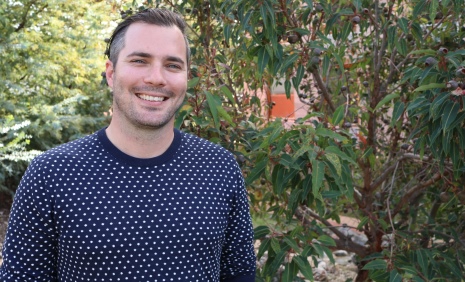 Finding solutions to the modern extinction crisis is a tall order but it's the motivation driving award-winning Charles Sturt University (CSU) scientist, Dr Dale Nimmo.
The ecologist and conservation biologist has been named a NSW Young Tall Poppy by the Australian Institute of Policy and Science (AIPS).
Contributing to his award is Dr Nimmo's success in spreading the word about his love of all things science through academic journals as well as traditional and social media.
Dr Nimmo received the NSW Young Tall Poppy Science Award during a ceremony at the Museum of Applied Arts and Science in Sydney on Thursday 29 September.
The Tall Poppy Award is the latest in a series of honours for Dr Nimmo in 2016. He won the Next Generation Ecologist Award from the Ecological Society of Australia and secured an $86 000 research grant from Hermon Slade Foundation. Dr Nimmo is in the School of Environmental Sciences at CSU in Albury-Wodonga and is a member of the University's Institute for Land, Water and Society (ILWS) with research interests in wildlife ecology, biodiversity conservation and fire ecology.
"Alarmingly, scientists who study modern ecosystems have now concluded that the earth is amidst a sixth mass extinction event caused by changes to the global ecosystem caused by humans," Dr Nimmo said.
"I study ecosystems around the world – from bird communities in Papua New Guinea; bears and wolves in Romanian farmland; to dingoes and possums in the Australian outback – to reveal how big disturbances like wildfire, droughts, invasive species, habitat loss and climate change affect ecosystems.
"I collect large datasets on ecosystems to build complex statistical models that allow me to identify the best ways of managing landscapes to protect wildlife.
"By understanding how ecosystems are affected by disturbances, my research aims to find ways of balancing the needs of humans and nature."
In congratulating Dr Nimmo on his most recent award, CSU Vice-Chancellor Professor Andrew Vann said, "Dale is delivering exactly on what Charles Sturt University aims to achieve through its research; finding solutions to big issues, with both local and global impacts."
The Australian Institute of Policy and Science's Tall Poppy campaign aims to 'recognise and celebrate Australian intellectual and scientific excellence and to encourage younger Australians to follow in the footsteps of our outstanding achievers'.