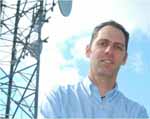 A Charles Sturt University (CSU) researcher cautioned a NSW Parliamentary enquiry on Monday 19 April that it can't be assumed that broadband use will 'take-off' across all sectors of the economy and society, and that innovations do not 'sell' themselves to everyone.
Mr Peter Adams, an adjunct researcher at the CSU
Centre for Research in Complex Systems
(CRiCS) and an e-business strategy consultant, noted to the NSW Legislative Assembly Standing Committee on Broadband in Rural and Regional Services inquiry that historically 'innovations' such as boiling water to prevent disease was not automatically accepted in Peruvian villages, and that using citrus juice to prevent scurvy took 130 years to 'take-off' in the British Navy.
Mr Adams was invited to present his research to the NSW Legislative Assembly's inquiry Transforming life outside cities: the potential of broadband services, which is examining the benefits and opportunities for rural and regional communities of having access to telecommunications (including broadband) and other technology services.
"Building knowledge is the starting point in driving adoption of high-speed broadband," Mr Adams told the inquiry. "For example, if small business owners understand how high-speed broadband can be used to improve their business, broadband will be a key economic driver for NSW."
He said his PhD research indicated that the four factors that drive adoption of technology in Australian households are lifestyle compatibility, perceived cost, the influence of family and friends, and the complexity of the purchase decision.
Mr Adams said household adoption was important for three reasons. "Sixty eight per cent of small businesses are based from homes; households are a massive consumer force in the market; and social services can be cost effectively delivered to households using high-speed broadband.
"Data from the Australian Bureau of Statistics and other research shows the people most likely to gain a social benefit from broadband are the least likely to have it; that is, pensioners and indigenous households," he said. "If these groups have physical access, then it is more likely small business will develop innovative social services for these groups.
"Utilisation is the key to getting a social dividend from the National Broadband Network (NBN), and utilisation will be driven by education."
Mr Adams recommended that NSW create a Broadband Innovations Partnership (BIP) program to provide the framework for small business to develop innovative services which could be delivered via high speed broadband. The development risk would be shared by the public and private partners, while the BIP would manage the governance role and liaise with key semi-government bodies to access additional expertise as needed.
"Funding flexibility encourages innovation and it is the smaller organisations who are adaptable enough to think 'outside the box'," he said. "There is a need to sell the idea politically that strong regions are the key to the future economic prosperity of NSW for remote, rural, regional and city based residents. Broadband is something which can realistically be delivered on an equal basis to all of the state regardless of location."