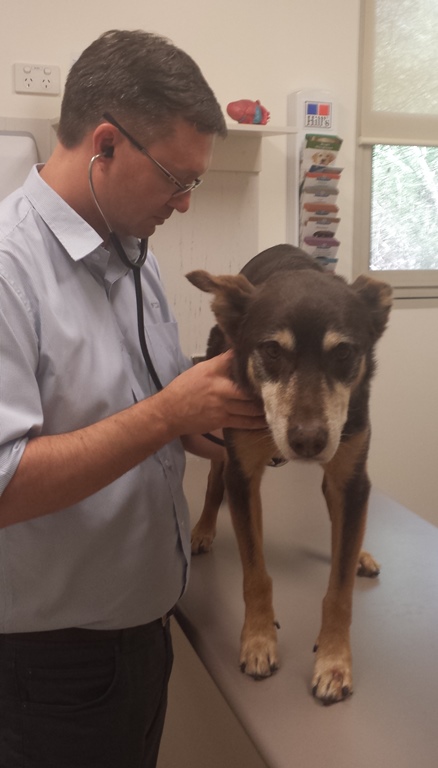 A new study at Charles Sturt University (CSU) offers dog owners ways to prevent grass seeds becoming a major health problem for their animals.
In the first study of its kind, researchers in the University's School of Animal and Veterinary Sciences examined the record of 470 dogs suffering from grass seed related diseases at the Wagga Wagga Veterinary Hospital and CSU Veterinary Teaching Hospital over five years.
Lecturer in small animal medicine, Dr Martin Combs, said "We found that frequent grooming provides some protection from the diseases caused by grass seeds.
"However, merely clipping the coat or searching for the seeds in the coat without grooming is an ineffective preventative measure." Listen to Dr Combs here.
Loading...
"People often clip a dog's coat to stop grass seeds, but this removes only the top coat, we think it is the removal of the dense undercoat that is the key in reducing the number of grass seed attaching to the coat.
"Grass seeds are a major problem in south western NSW. What people may not know is that across the region it is a major health problem for animals with vets seeing hundreds of animals each year with grass seed related diseases ranging from mild lameness to severe lung or neurological conditions.
"Most owners are familiar with seeds in feet or ears, but perhaps they don't realise we also see dogs with seeds lodged near their kidneys, their heart or even in their brain," Dr Combs said.
"A grass seed can put a kelpie out of work for months and we lose a handful of dogs each year in Wagga Wagga to grass seeds.
"One of our key findings is that grass seed related diseases are three times more likely to occur in dogs with medium length coats. It might be thought that longer coats would be associated with increased risk of grass seed diseases but it seems that the high-density undercoat of most medium-coat breeds may be a critical factor in increasing these dogs' risk. It is the dense undercoat that also explains why medium length coated dogs were found to be at three times higher risk in our study.
"The message is; if you have a long coated dog - yes clip it, but also get the undercoat properly stripped out and if you have a shorter coated dog with a dense coat, like a spaniel, a Labrador or a kelpie - you can reduce the risk of grass seeds by getting the dog properly groomed. A professional groomer can help."
Dr Combs said, "This study is an important one for dog owners as the diseases caused by grass seeds are a significant problem in the Riverina. The diseases and their treatment can be complex, severe and expensive."
The CSU researchers are hoping to further their research to prevent the common health problem, particularly for working dogs.
"Any farmers who are interested in being involved in a trial to prevent this disease should contact me on (02) 6933 2537or send an email to macombs@csu.edu.au."
CSU is part of the Australian Research Council (ARC) Linkage Infrastructure, Equipment and Facilities funding for the VetCompass data service led by the University of Sydney. The project will see the collection of' real-time records from veterinary clinics and aggregate them for researchers to interrogate'.
Access to this data will help veterinary researches to look at things like grass seed related disease in much more depth and also compare the scale of the problem across regions. Read more about the University's veterinary science program in CSU News here.