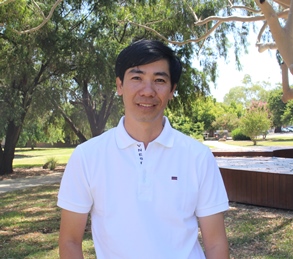 Small bones inside a fish's ear will be used by Charles Sturt University (CSU) researchers to map the journey of migratory fish in the Mekong Delta in South East Asia.
The research by CSU PhD student Mr Vu Vi An aims to better understand the migration ecology of fish species of the Mekong River that are important sources of food an income for many local populations..
"Many species are mainly found near the sea in the river mouths of the Mekong, and they migrate 700 kilometres upstream for spawning near to Khone Falls in Lao People's Democratic Republic and beyond," Mr An said.
"The otolith is a small bone inside a fish's ear. As the fish grows a new layer of calcium is laid down, similar to the growth rings of a tree.
"The chemical traces we find in each of these growth rings can give us important information about the chemical composition of the water that the fish was swimming in at the time.
"Our research aims to match the water chemistry of the Mekong with the chemical fingerprint in the growth rings of the otolith. This will help map the migration path of these fish so we can understand more about their life cycle."
An expert in freshwater fish, Mr An was a Vietnamese researcher with the Research Institute for Aquaculture No2, and has moved to CSU in Albury-Wodonga to undertake his research.
He's the recipient of an Australia Award, a prestigious international scholarship funded by the Australian Government.
The research is being supervised by fish ecologist Dr Lee Baumgartner from CSU's Institute for Land, Water and Society.
Dr Baumgartner said, "This research will unlock the secrets of these long distance migrants, using a range of scientific techniques to try and locate spawning grounds, and to also determine how long these fish actually spend in the ocean and in freshwater.
"The development of water infrastructure such as dams in the Mekong River is threatening many species of migratory fish, which in turn can affect the sustainability of river communities.
"By understanding more about how these fish migrate we hope to be able to develop management strategies to protect the fish and the livelihoods of the local people."
The project team will travel to Laos and Vietnam in June to start data collection.