Catchments across south eastern Australia are sodden, river systems swollen and many communities are dealing with ongoing flooding.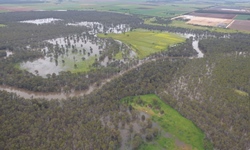 Charles Sturt University (CSU) has experts from the Institute for Land Water and Society (ILWS) who can talk about the environmental and social impacts.
The big picture
ILWS Director and wetland ecologist Professor Max Finlayson said we live in a variable climate and our rivers respond to both dry and wet conditions.
"The plants and animals in the rivers and their floodplains are adapted to cope with wet and dry conditions, not that it is always easy for them. Like ourselves they need to cope with the extremes. The energy and nutrient cycles are tied in with the flows and are critical for having a healthy river system.
"Floods are part of the river systems. I wonder though how much we really understand about the importance of extreme events. I know full well that waterways can be difficult to sample when in flood, but if we want to realise the benefits of the investment we are making in river management and restore healthy rivers we need to get to grips with this using both local knowledge and new technologies."
Professor Robyn Watts from CSU's School of Environmental Sciences studies the ecology, management and restoration of aquatic ecosystems. ILWS research on ecosystem responses to flows will help us better understand how lowland river ecosystems function during droughts, floods, environmental watering and other events such as the recent algal bloom in the Murray River system.
"Water is currently flowing from the Murray River through the Koondrook State Forest and then into the Wakool River. There's the potential for the flows to contribute to the productivity of the Wakool River, but there are also some potential dis-benefits as the water temperature rises. We're monitoring nutrients, dissolved carbon and micro-invertebrates to help us understand what this event will mean for the river system."
Flooding and fish
Senior lecturer in river and fish ecology at CSU's School of Environmental Sciences, Dr Paul Humphries said floods are essential to maintaining a healthy river.
"The interchange of material and energy between the main channel and floodplain is vital, it's what fuels the river and allows native, and non-native, fish to be productive. Some native fish will breed best under flood conditions, whereas for others, floods have no role in breeding, but give them an opportunity to move between habitats and areas that would not normally be possible. Connectivity, through floods, allows the exchange of genes, vital for continued existence of fish populations."
Freshwater fish ecologist Dr Lee Baumgartner said rising river temperatures and floodplain inundation create fantastic opportunities for fish to breed, but unfortunately it's not only the native fish that will benefit.
"Unfortunately this time of year is perfect for carp spawning. In 2011 carp numbers increased by 4 000 percent in some areas after flooding. Carp love inundated wetlands even more than native fish. The proposed development of the carp virus is one way that scientists are trying to reduce the risk of future carp breeding events. Aside from carp there are other alien species which like a flood. oriental weatherloach boomed in the Murrumbidgee following recent flooding and mosquitofish, sometimes called gambusia, also love the newly inundated shallow water."
Climate variability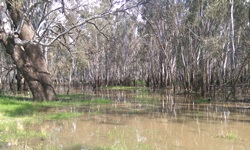 Senior lecturer in climate and spatial sciences in the School of Environmental Sciences, Dr Andrew Hall discussed why it's been such a wet winter and spring.
"The two key influences on Australia's rainfall, namely the El Nino Southern Oscillation and the Indian Ocean Dipole, are both currently in phases that lead to greater rainfall during winter and spring for many regions of Australia, particular in the east," Dr Hall said.
"The concurrent breakdown of the strong El Nino event that was in place earlier this year along with warmer than average sea surface temperatures in the Indian Ocean off north-western Australia have produced atmospheric conditions for the high rainfall totals we have been experiencing since May."
Community resilience
PhD student Ms Jennifer Woods' research through CSU's School of Humanities and Social Sciences is focused on the role of community spirit in flood recovery using the 2012 flooding of North Wagga Wagga in NSW as a case study.
"My research into the 2012 flood event in North Wagga Wagga has highlighted a resilient community which has ostensibly recovered from that event to now face six weeks of ongoing minor flooding. Of course this ongoing event has required the community to revisit the previous event and the trauma that that involved.
"On the whole the community is working toward preparedness for any potential inundation in what may only be described as a moderately high risk period. The community is actively working at self-support and there is much communication and activity within the community currently, to that end."
Read more about Ms Woods' research here.