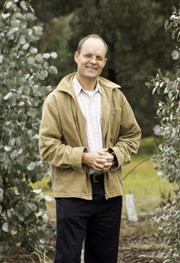 Forestry is now part of the new economy in a world coping with carbon pollution, says a leading forestry researcher from Charles Sturt University (CSU).
"It is no longer just an industrial producer of timber and pulp. There are big ambitions for this sector in Australia's 21st Century economy, as illustrated by what the Australian Government is proposing under its emissions trading scheme," says Dr Digby Race, a senior research fellow with the University's Institute for Land, Water and Society (ILWS).
"Forestry can play a central role in Australia's response to carbon pollution, a view shared by many other governments around the world."
Dr Race will convene a major national forestry conference to be held in Albury on the NSW-Victorian border, from Sunday 19 to Wednesday 22 October. The theme of the Australian Forest Growers National Conference is 'Forestry for a Better Future: climate, commerce and communities'.
Dr Race says Australia is well placed to make forestry a central part of its emissions trading scheme.
"We have got the land base, the forestry experience, and the climate, environmental conditions and means for integrating forestry into our rural landscapes," he says.
"The recipe for successful forestry is still being written and there are many good ideas out there. Factors like climate change and emission trading schemes have the potential to change what forests we grow, where we grow them and how we manage them. These are quite profound questions for forest growers and policy makers that offer exciting opportunities."
Dr Race says the national conference, which is held every second year, is "very much an integrated and robust national conversation about forestry and its place in the economy and catchments, and socially".
The conference brings together small and large scale forest growers, researchers, government policy makers, program managers and the diverse private sector, such as brokers, processors and manufacturers.
Keynote speakers at the conference are:
Barney Foran, an adjunct ILWS futures analyst, talking on 'Australian forestry for a better future: Challenges, opportunities and strategies';
Rowan Reid, tree grower and lecturer at the University of Melbourne on 'Sustaining growers' enthusiasm for small-scale forestry'; and
Roger Sands, forest scientist and educator and recently Head of New Zealand's School of Forestry on 'The relationship between forests and agriculture – an historical and international perspective'.
Dr Race says the associated field trips were an important part of the conference which the diverse applications of forestry in the Murray region.
He says ILWS, a leading research institute, has been interested in the role of forestry in rural landscapes and communities in Australia and South East Asia for many years.
Dr Race says forestry, in the past, has suffered from a narrow stereo-type, that it was just about pine plantations and large scale processors.
"Twenty first century Australian forestry also includes small-scale integrated forests managed for a wide range of environmental, aesthetic and economic reasons," he says.
"I think interest from private landholders ebbs and flows with opportunities. In the 1990s, opportunities for leasing land to large forestry growing companies were popular. I suspect, if and when the emission trading scheme is implemented in 2010, small and large landholders will again be considerably interested in forest growing."