Amongst the 700 Charles Sturt University (CSU) graduates to take the stage in Albury this week will be one with four legs and a tail.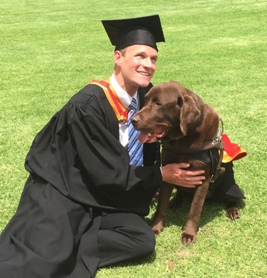 Guide Dog, Bear, will receive special recognition for the role he's played in helping Bachelor of Physiotherapy graduate Mr Daniel Searle during more than six years of study.
"Bear has attended every lecture, exam, practical class and work placement of my degree," said Mr Searle. "He might have slept through an occasional lecture, but who hasn't?"
Mr Searle, from Barham in southern NSW, lost most of his vision from a genetic condition, Lebers Optic Atrophy, at age 16.
He said that experience inspired him towards a career in health.
"When I lost my sight I had so much help from health professionals that I decided that I wanted a career where I could also give back," said Mr Searle.
"I decided that physiotherapy was for me because it's hands on and provides the opportunity to encourage people to be more active and to achieve their goals."
Mr Searle said his visual impairment has made studying challenging, which makes graduating even sweeter.
"Getting into university was half the battle. I'd only lost my vision a few years earlier so was still adjusting to studying without my sight.
"Many of my lecturers were not used to having a visually impaired student so there was a bit of trial and error in working out how best to do things.
"During practical classes I was able to pair up with other students who could help me understand what was being demonstrated, and I think explaining things to me helped them gain a deeper understanding too.
"There were times I was unsure and I experienced periods of depression. With the support of family, friends and staff I've managed to get here and although it's been a long journey that just makes it all the more worthwhile."
While attending CSU Mr Searle was on the executive of the Murray Campus Council student association and the Physio Club. He and Bear were also student ambassadors for the University.
"Charles Sturt University is committed to providing an inclusive education environment underpinned by our core belief in the right to education for all people," said Dean of Students Professor Julia Coyle. "I am delighted to see Daniel, and Bear, graduate, and commend Daniel, Bear and the staff of the University for achieving such a significant outcome."
Mr Searle and Bear will graduate in a formal ceremony at 3pm on Thursday 18 December at the Albury Entertainment Centre.
It's one of four formal graduation ceremonies for CSU in Albury Wodonga, recognising the achievements of nearly 700 students during four ceremonies on Thursday 18 December and Friday 20 December.