The accolades for the new
National Life Sciences Hub
(NaLSH) at Charles Sturt University (CSU) in Wagga Wagga continue to roll in.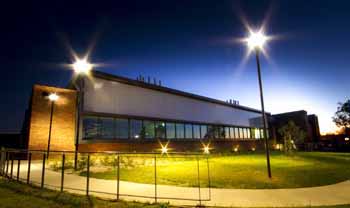 The $48.6 million hub for life sciences research and education, which opened in 2012, has been granted a national rating for its environmental design.
CSU Green
Manager, Mr Edward Maher, said "Charles Sturt University is demonstrating real leadership in Green Star education facilities. This latest Green Star rating is the second certified project with the other being the University's Academic Accommodation 3 at Albury-Wodonga, which has a 6 Star Green Star - Office Design v2 rating. The proposed Early Learning Centre at Wagga Wagga is also a registered Green Star project.
"We are demonstrating that Green Star ratings do not have to be confined to the major metropolitan centres.
"The National Life Sciences Hub at Charles Sturt University is designed to operate using 35 per cent less energy than a conventional building of a similar type.
"This has been achieved using a combination of state-of-the-art features including efficient air conditioning, lighting and hot water systems, as well as high performance building fabrics."
Chief Executive of the Green Building Council of Australia, Ms Romilly Madew, said, "A range of international reports has confirmed that green schools improve student learning outcomes, while reducing teacher sick leave and turnover. Charles Sturt University now has independent verification that the National Life Sciences Hub is one of Australia's most sustainable, productive and healthy education facilities in Australia."
Some of the building's other winning design features include:
Shading structures on north-facing windows and minimal glazing on the western side of the building to minimise summer heat load;
Windows are double-glazed and contain a special tinting film to prevent heat escaping the building in winter and entering in summer;
Clerestory windows for maximising natural light throughout the building;
Bricks used in the construction of NaLSH have been salvaged from demolished buildings;
Rainwater is collected from the roof areas and used to flush toilets and irrigate the surrounding landscaped areas;
And provision of cyclist facilities for staff and students including lockers, bike storage and showers.
NaLSH was funded with $34 million from the Australian Government's Education Investment Fund and $14.6 million from CSU. Project director was Savills Project Management, design by BVN Architecture, and head building contractor Joss Construction. The Green Star certification process was led on behalf of CSU by Mr Umow Lai.
Read more on CSU News about other awards for NaLSH
here
.