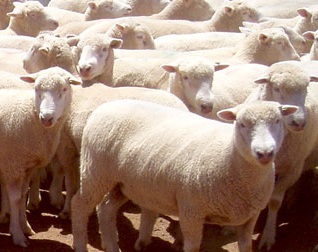 Enhancing the profitability of sheep and wool producers will be the key focus of a major Agribusiness Today forum to be held at Borenore, west of Orange, on Thursday 8 August.
CSU agribusiness lecturer Dr Karl Behrendt, at the
School of Agricultural and Wine Sciences
, said the forum would bring together industry experts who could give producers insights into how they might stay competitive in a challenging global market.
"The forum will cover topics including the future of sheep markets in Australia, international market trends and export opportunities, live exports and profitability in a global market," he said.
"We will also examine practical issues specific to sheep and wool producers, such as controlling lice, animal health and nutrition, fertility controls, and issues specific to the NSW central slopes and tablelands.
"Representatives from the Sheep Meats Council of Australia, Meat and Livestock Australia, the Department of Primary Industry, the Tablelands Livestock Health and Pest Authority, Charles Sturt University and other industry groups will deliver presentations on their areas of expertise.
"This is a great opportunity for producers to come together and get the latest information on the topics that affect them day-to-day."
Regional Development Australia Central West executive officer Ms Sharon Rabey said the industry had been through some challenging times over the past twelve months.
"We've seen a large amount of price variability in both lamb and wool prices and this makes it far more challenging for producers to remain profitable so we have invited a number of speakers to provide an outlook for both commodities," she said.
"It's important producers remain profitable and we have a number of speakers focusing both on lamb production and wool production.
"International market trends and export opportunities is one focus, with the Chairman of Sheep Meats Council of Australia, Mr Ian McColl, reporting to the meeting on his recent visit to the Middle East. The MLA will examine the opportunities and threats to our lamb markets around the world.
"We're also examining the wool industry, from the perspective of retailers and raw wool producers, and there will be a number of speakers focusing on extension information, including pasture performance and managing sheep parasites, such as lice and worms."