A group of academically gifted Kooringal High School students will visit Charles Sturt University (CSU) in Wagga Wagga on Wednesday 18 July to get a taste of how new knowledge is generated through research.
Twenty Gifted and Talented (GAT) Year 9 students will participate in the new program to encourage them to pursue a career in research.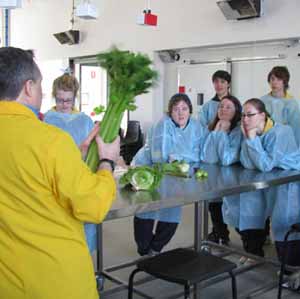 Senior Lecturer in the
School of Agricultural and Wine Sciences
at CSU, Dr John Harper said, "The teenagers will receive hands-on research experience in a laboratory setting and observe how people who work in universities go about doing their research.
"We hope the experience will inspire these bright and creative students to think about attending a university to follow a research career.
"This is a crucial time for students as they ponder their Higher School Certificate options and what they will do with their careers to contribute to society."
As part of their school subject, Research Studies, each student will be allocated an academic from across the University to act as mentors to assist them develop their individual research topics.
The Research Open Day at CSU is supported by the University's Faculties of Arts and Science, Kooringal High School and COMPACT, a regional organisation building partnerships between schools, tertiary education and business to encourage young people to reach their full potential.