A Charles Sturt University (CSU) scientist is urging people to spend ten minutes in the garden or bush this week looking out for native pollinator insects.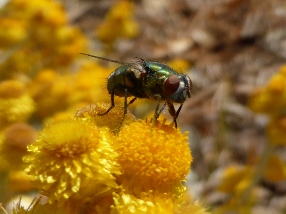 Dr Manu Saunders from the Institute of Land Water and Society at CSU in Albury Wodonga is one of the organisers of the Australian Wild Pollinator Count.
Dr Saunders said the bi-annual event aims to raise awareness and gather information about the thousands of native insects that pollinate crops and gardens.
"When it comes to pollination, honey bees get a lot of attention but research shows they are not always the most efficient pollinator for many crops and native plants," she said.
"We often forget that honey bees are an introduced species to Australia and they are also under increasing stress from management factors, increasing their susceptibility to disease and parasites.
"We need to focus more attention on native insects and aim to conserve diverse pollinator communities, rather than rely on a single insect species."
Dr Saunders said the count is an example of citizen science that can provide useful information to understand more about native pollinators.
"We know that Australia has around 2 000 native bee species, all of which are important pollinators," she said. "We also know there are a couple of thousand butterfly, wasp, fly, moth, beetle, thrips and ant species, some of which are documented pollinators.
"Unfortunately, we don't have a lot of information on some of these insects, what flowers they pollinate, and where they are found. Information gathered during the count will help build a database on wild pollinator activity.
"Nature is vital to all of us, not just as a nice place to visit occasionally, but as a functioning ecosystem we live in. Engaging people with how nature works can help us manage many of the environmental issues we face."
Dr Saunders said taking part is easy, "Pick any warm sunny day during the observation week, find a flowering plant and count the number and type of insects that visit the flowers during a ten minute period. People can submit their observations on the website and there are resources to help you identify the insects."
Dr Saunders was awarded her PhD titled Wild pollinator communities of native woodlands and commercial almond plantations in a semi-arid Australian landscape: Implications for conservation of insects and ecosystem services during a formal graduation ceremony in 2014.
Her research was the first detailed study of insect communities in almond orchards in Australia and examined the potential for native insects to provide critical pollination services.
"The research showed that native vegetation surrounding the orchards and a ground cover of flowering herbs within the crops was crucial for supporting pollinating insects," said Dr Saunders.